If you mentally abandon the tragic events and high hopes in the South-East of Ukraine for the present, and look at the Ukrainian crisis detachedly, you will see the abundance of the most powerful types and images that this crisis has created and which are a real treasure for modern mass culture.
- Natalya "Nyash-myash" Poklonskaya is a sexy female prosecutor with a facial defect, earned, rumored to be in conflict with a gangster group. Fearless accuser, whose hands, however, secretly dreams of getting into any criminal.
- Polite people - the personification of a confident "force without aggression", packed and armed to the teeth ultra-modern professional soldiers.
- Cossack Babai is a bearded Russian exotic in fashionable glasses, crazy-Russian, out of boredom went to conquer Russian lands, knocking down helicopters almost from a slingshot and dancing restrained on a city festival in Kramatorsk, passing against the background of hostilities. And to some extent the folk song about the Cossacks actually in the middle of the war refers to performances, for example, Lydia Ruslanova before the soldiers during the Second World War.
- Colonel Strelkov is a handsome male with a slightly pre-revolutionary appearance, an ideological Russian white-guard monarchist, nostalgic for glorious imperial times, a fearless but not reckless savvy commander, with a calm smile looking into the face of death.
- People's Mayor Ponomarev is a hoarse simpleton-matershinnik in a baseball cap, with semi-criminal habits (and, probably, a biography), golden teeth, completely overflowed and experiencing, obviously, the culmination of his terrible and gloomy life.
- Aleksey Chaly - mayor of Sevastopol, an intelligent and, at first glance, gentle adult man, open, kind, in a sweater, a typical reasonable head of the family. In this case, a staunch national patriot and in addition a successful businessman who created a giant corporation.
- The golden eagle is a collective image of deceived by the state, humiliated and angry police officers, the personification of perseverance and loyalty, who are no longer needed and led these people to decide to change the side of the conflict.
- Lavrov and Churkin are two experienced cold-blooded diplomats. One is a stately half-breed, "cumshot and lit", a cunning and cunning manipulator. The second is a thick-haired, gray-haired Russian who for 40 years in a row withstands hours of diplomatic pressure from climacteric American women and other people who look like mutants.
- Yanukovych is the legitimate president.
- Titushka is the lowest link in the hierarchy, a stupid provocateur in the Chinese sports suit "Adidas", arranging dirty tricks on opponents' street actions to discredit them, doing dirty work and signing for possible humiliation from the crowd of opponents in advance.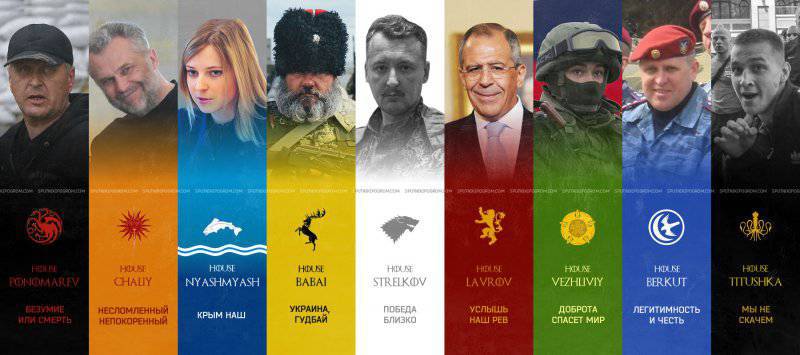 Wherever you go - everywhere are juicy, bright, traced types, ready-made team of superheroes for a Russian blockbuster, full-length cartoon, TV series or some computer game. They fight against the brutalized and hated state for their freedom and reunification with the Motherland, wear black orange St. George ribbons as a sacred symbol, for which the enemies in impotent rage call them "Colorado". Any child in Russia and in the whole world should adore them and at least KNOW.
A little upset about the lack of female characters: the colorful Soviet sledgehammer Nelia Shtepa withdrew from the historical process; Pleasant to the generation of supermarkets, although if we were given more pictures of indignant Soviet old women with a pitchfork - maybe they would have made such dense, hedgehogs in their hands pata, an icon on the chest, as if from a Russian horror tale materialized.
Nevertheless, some classic types are painfully lacking. On the other hand, it is not over yet.
Against this background, the absolute grayness of Maidan rushes. He gave birth to absolutely no one and nothing, at least hypothetically interesting to an ordinary person, for example, from Australia, who is in himself a Ukrainian crisis before the flashlight and even for fun: voynushka, cho. No visual images, juicy personalities. Well, Ukrainians have "Pravosek Maydanovsky" - a fishing camouflage, a construction helmet, a wooden shield, a gas mask, can throw Molotov cocktails, are very stable in street confrontation, have right-wing views. Ok, credit, time. Well, Muzichko's character is undeniably bright, although also from the Right Sector - two. "Black men" -rakels, whether mercenaries, or "proapgreyzhennye pravoseki." No questions. Three.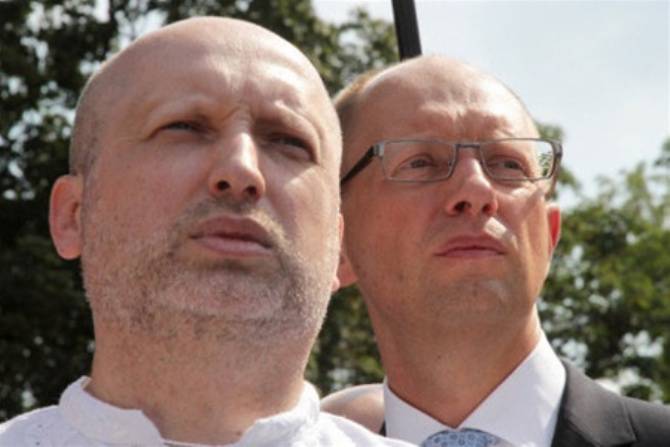 Everything. Yatsenyuk and Turchinov are super-comic figures of the type of mice from the cartoon about Leopold the cat, such is impossible in the gang of Maidan superheroes. The inhabitants who have left on the Maidan - biomass. Tymoshenko started off well with a wheelchair, but then lost her charm along with a scythe and turned into a regular grind, which are traded in Vykhin lard. Kolomoisky somehow pulls at the "bad guy", but he is too unequivocally bad (besides he finances the punishers mentioned, again everything is too intertwined, all the characters revolve around some initial grouping, it shouldn't be like that - compare it with what our all different), like Klitschko - too unambiguously stupid, and Fahrion - too unambiguously evil. So uninteresting, they are two-dimensional, no depth. In Poroshenko, there is no two-dimensional: an ordinary Soviet official.
Yarosh? Again pravosek, and not so odious: outwardly ordinary Jew from Rostov (I have a familiar Jew from Rostov to him in a dime like), with no mind, no heart. Kernes and Dobkin, of course, are beautiful, but it's not very clear where they are - clearly not to Euro-Maidans, but it's kind of not to write to ours either. Avakov - mortal boredom, the Crimean Tatars in flight, even with his odious Dzhemilev. Externally with grief in half the current Minister of Agriculture is colorful, but he is lost in the backyard
Stories
along with Shtep. Football hooligans have already seen everything. The Ukrainian army in this whole crumbling symphony NO AT ALL (which is typical).
In general, there is nothing more and no one. We watched a picture from Maidan for three months, then for three months we observed what happened after Maidan. Conclusion: the contribution of separatist Ukrainians to popular culture - 2 points from 10, Russian and pro-Russian Ukrainians - well, at this stage, 7 from 10 is definitely there.
What, in general, once again proves that culture is immortal and a people with a high culture, ITSELF, ITSELF reproduces the phenomena of mass culture. Flowers grow on fertile soil, even it is not necessary to fertilize, according to the law of large numbers, something alive will appear. It is no coincidence that half of the characters of the Russian Spring seemed to have come from the pre-revolutionary past, organically wedging themselves into the 21st century.
What is the problem then? Sadly, it's pretty simple. In Russia, there is no national creative intelligentsia (or, to put it more correctly, its number and significance are very modest), because of this its (Russia) cultural potential is realized on 5-10% of the prescribed. And half of this gives reproduction and state support of the old high culture and things created on its basis (Mariinsky Theater, Bolshoi Theater, etc.). This is good, but we are talking about mass culture.
The task of the creative intelligentsia is to provide reality with new meanings. Russian reality provides the ideal raw material for this - it is not necessary to invent anything. Babay, Strelkov, even titushki are ready-made types that have arisen, I repeat, SAMI. Types powerful, bright. These would never have appeared in Bulgaria or Albania. They have nowhere to take. In Russia and among the "Russian Ukrainians" they are.
And as if they did not. For the entire national creative intelligentsia, Enjoykin alone blows away, collecting the legendary video "Nyash-myash Crimea is ours", and the author of the song "Oh, what a nyasha prosecutor Natasha." What is remarkable is that both appeared only after the JAPANESES adapted the image of the nyashny prosecutor to the anime (and the very word "nyashny" comes from the anime subculture, which was not invented by us or by us). Everything else is ignored altogether. In fact, in a cultural sense, the Russian Spring has made Maidan 10: 0, but no one in Russia can materialize and explain to the people of the world in an accessible form who are the barbarians and who is Rome. This is the era of the Internet (!).
Why? Therefore. In Russia, especially in the capitals, there are a large number of people calling themselves the "creative class". In general, this is the same as the creative intelligentsia. What is the creative class in Russia - is known. For example, people very much complain that it is hard for them to live in one country with "cattle" or, more correctly, they are uncomfortable among the Russian common people who think and live differently than idle and creative, tolerant, ironic urban youth, who are not even completely sense of Russian, but rather "citizens of the world." In general, we painfully long see what two years earlier was called "the conflict between the iPhone and the chanson".
This is a deeply perverted point of view on oneself and on society, leading to monstrous consequences. There are no "cultural figures" in Russia on a national scale, and the majority of people who should be engaged in programming the Russian common people and, in fact, dole the nation out of it based on the cultural and biological foundations, belong to this common people with either helpless fastidiousness or idiots for which a couple of films a year about war and hockey are enough, or (in the worst case) as untermensch, who have to arrogantly "inculcate culture". In the latter case (and in general, and in the first two) it turns out exactly the vaccination in its original meaning: "protection from". "I tried your culture - thanks, I will never infect it again in my life."
What is, for example, the common people English? Drunkards, hooligans, social freaks. How does the English creative class portray them? And it depicts: drunkards, hooligans and social freaks. They drink, they fight, they make horrible faces, but HOW! IN ENGLISH! And it came to the fact that at one time our mods were dressed up under the chavs, English garbage, the very "cattle", the Russian version of which these mods revealingly despise. Or here is Sex Pistols: horrible songs played nasty; sang (if you can call it that), parodying Cockney, were full cretins.
What did simple English crackle McLaren (by the way - half-semi-Scotsman) and simple English creaklich Vivienne Westwood? A clothing store, a special style, bright clothes, loose behavior, noisy dirty music - voila, we have the phenomenon of world culture, and God save the Queen is now the anthem not only of English gentlemen, but also of English scum, as well as imitating scum from around the world. Here is the highest creative class.
Aside, I will note that the lower classes of English society are much more "bydly" than ordinary Russian people. Take a trip to a cheap hotel in Cyprus and compare: ours are good-natured beer goons and funny, a little ridiculous girls, mostly with nice figures, taking pictures in bathing suits against the backdrop of the sunset in eighteen different poses. The British are cellulite womanies with lilac hair who have been lashing beer in the morning and are neighing with eerie voices, and red-hot alcoholic punks who are burping in their voices near the children's pool.
Nevertheless, there is a national creative class in England, so the English punks turn into attractive social types. Such that for a second you want to become an English punker: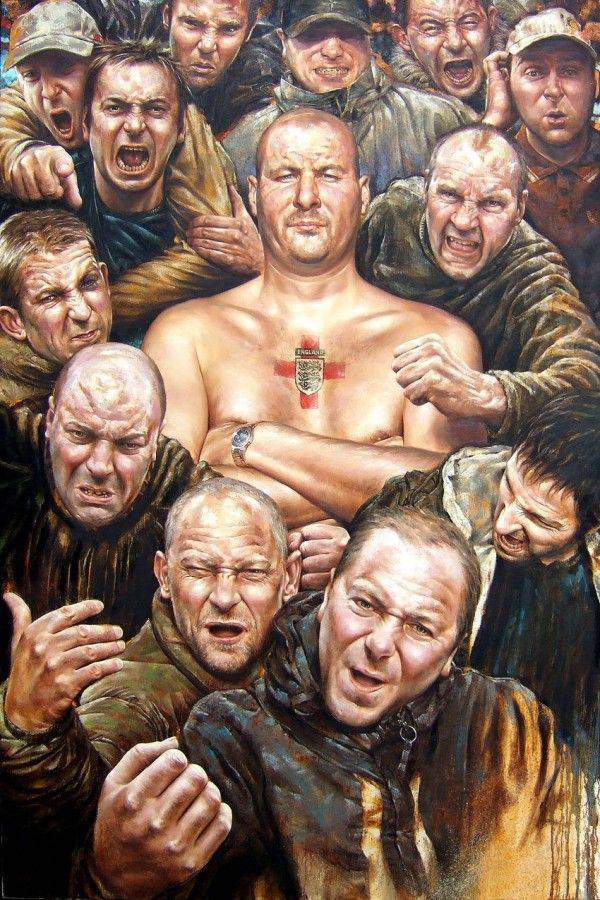 Vatniki by Morgan Penn "England is waiting." The image of the leader - the dream of any PTUshnika.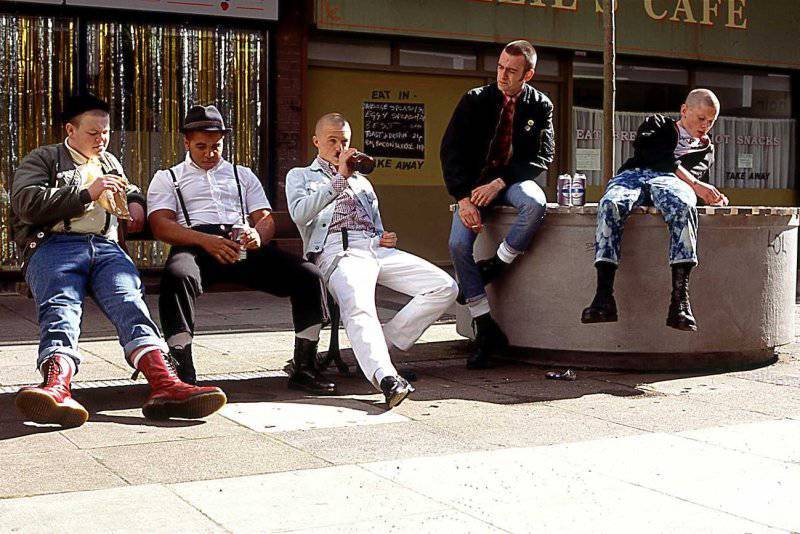 This is England, the action takes place in the 1983 year. The style of English garbage and degradants prior to the start of 2000's was used by Russian skins and football fans, many of whom studied in decent institutions (and the first fan group was created on the basis of MSU students (!).
In Russia, however, either people of modest abilities are sitting, or the creative class is not national, and not even cosmopolitan, but ANTI-NATIONAL. And under the guise of his creativity, supposedly colorfully and vividly depicting the Russian common people, constantly puts us byaku. Like, we have the following people:
Drawn talented, but it is an evil caricature made without love. The Englishman would depict the Irish or the Scots in such a way, to the delight of his English jingoists, who would laugh at the pubs above the monsters. It is characteristic that Shulzhenko's works are very popular in anti-Russian pro-Ukrainian communities.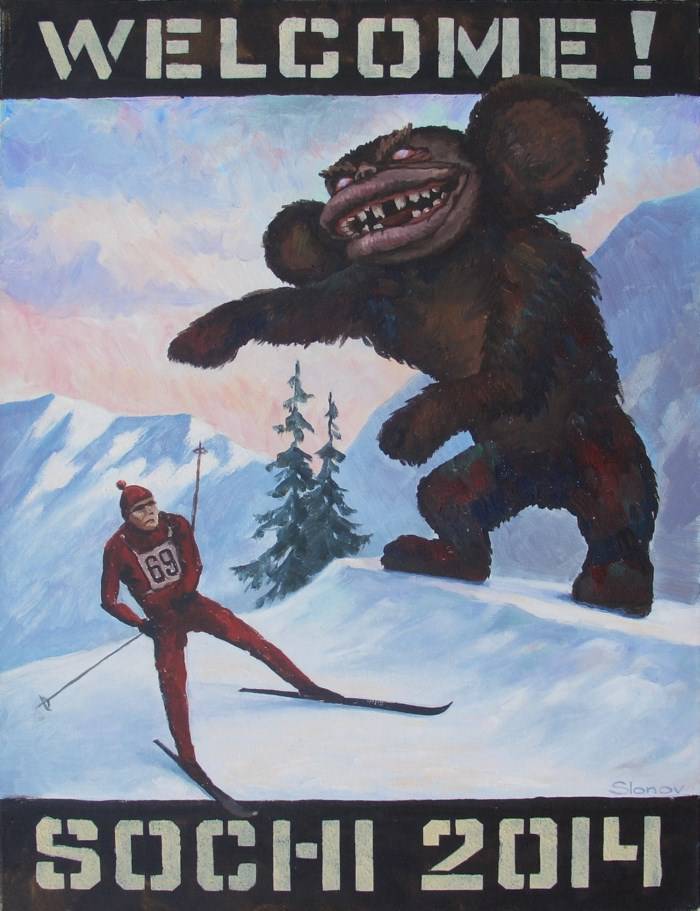 Another sample in honor of the recent Olympics. Essentially - military propaganda
In general, the authors of such drawings once begin to beat, but that's not the point. It is clear that on such a background, people will prefer Kalinka-Malinka, balalaika, Petrosyan and Gazmanov: at least they don't rush to shit. Those who Gazmanova outgrown, will begin to perceive his fans through the prism of evil cartoons, where just such Gazmanov lovers are depicted in the most disgusting way. At the same time, a person inevitably has arrogance in relation to his fellow countrymen, and that WONDER is growing that gap in society, which was designated by the iPhone-Chanson dichotomy.
In fact, the "man with an iPhone" cannot offer anything instead of a chanson to the people who listen to this chanson, believing the achievement of "outgrow Gazmanov" is quite sufficient, "what is more." And considering myself on this basis "creative class".
But the creative class is not those who watch smart films, read smart books and consume other cultural products that are inaccessible to people easier. The creative class is those who DO such products, and the target audience in this case is absolutely unimportant. The quality press is different from the tabloids, the Financial Times is read by men in expensive suits, the Sun is housewives, but journalism is journalism. The journalist is not the one who reads respectable publications, but the one who writes to any publications.
All the moans of the intelligentsia about "cattle" occur because of creative cowardice, inability to real creation and the lack of any initiative. Where the conditional creator sees a "scoop", a "quilted jacket" and a "chanson", being horrified by his incarnation in the person, for example, mayor Ponomarev (who, yes, it would be unpleasant to meet in the doorway, and especially answer in this doorway to his most innocent questions like "what time is it"), American or English "creakl" would see the unencumbered part of the audience, where you can cut down money, and at the same time spread a certain fashion, norms of behavior, and, in the end, draw a "human face "because without culture (in broad see Best) people quickly lose their human appearance.
Of course, it is necessary to do this, in accordance with the reality, but at the same time filling it with content, and at the same time slowly playing for a raise. Unobtrusively, but persistently.
None of this, however, is able to do. The only successful attempt of the last 10 years (before, it was sometimes possible to do something not bad about the gangsters) - "Hipsters", when after one movie a whole fashion appeared all over the country, thematic parties were held, and the finished and finished colors of the style (not so much in common with its real prototype) in hindsight, at the most official level, pasted into the dismal life of the post-war era, having revived it substantially (see the opening ceremony of the 2014 Olympiad).
Why did it happen? Because besides the dudes themselves, everything in the film was alive, and at the same time not embellished with eloquence and pathos. And even the Soviet communal turned out to be untidy and noisy, but a fun place where life is in full swing. I want to get there at least for a day: to have a drink with the hero Garmash, to fight a friendly fight with Mels, to walk in the morning along the corridor in an alcoholic T-shirt, grabbing the neighbor for the ass. I don't want to fall into reality from Shulzhenko's caricatures for a second.
Everything, nothing else. Pussy Rayot sucked half a year, unleashed the whole world, but what's the point? Have you seen at least one girl, even the otvyaznuy and shaggy, dressed "under the Oatmeal"? At least one party in the style of Pussy? Maybe colored leggings, balaclava and acid blouse have become a kind of attribute of the Russian "bad girl"? Nothing like that. Everything turned into a boring provocation, and to anyone in Russia, all these inventions of the evil Gelman about the counterculture turned out BY A BIG ACCOUNT are not needed and not interesting. Par went off the whistle.
Returning to the Russian Spring: instead of ranting about postmodernism, sitting in cheap parodies of the French brasseries, the Russian creative class would have long since been with postmodern cynicism transforming the heroes of this Russian Spring (who were obviously loved by the people and obviously came out of it) into heroes era, create around them a whole layer of culture. And not because they are "ours" (let agitprop deal with this; mass culture is generally international, but the basis of Russian culture is enlightened aristocracy, by its very nature international), but because they are WONDERFUL. Such types are a real gift, on any casting to Strelkov or Babai they would instantly be offered an engagement, a cartoon with stylized characters, which I listed at the beginning, would be a real hit.
But the creative class, instead, tells what is good and what is bad, calls for holding hands, moving those hands away from Ukraine, and is engaged in childish preaching. The brilliant, delightful heroes of the Russian Spring are drowning in the stream of reasoning about the bad aggressor Putin, the quilted jackets of the Colorado, the state duo and other exalted pacifism. And the prosecutor-nyashu instead of Russian forcing the Japanese.
As a result, when I say to my friend "Cossack Babai", she asks, "Who is this?", And if I tell her "Batman" - she will immediately understand who we are talking about. But this is monstrous, because against the background of the Cossack Babai, Batman is objectively dull and has become obsolete long ago, becoming a mockery. Nevertheless, a friend knows about Batman, but not about Babay.
Why? I think people "soul does not lie." They see some kind of Ilya Farber as a true hero, and the Cossack Babai is some kind of indistinct Russian commoner about whom it is a shame to mop. In addition, it is clear that all creativity for them is anguish, and that's why the unfortunate people get a bullshit: the creative process cannot be started in a directive manner, you need skill, talent and attitude, then everything will go by itself, without any directives. And here it seems that people would have called themselves a creative class - you have to give up something unnecessary to anyone in advance, fight the eternal shortage of a drunk budget, expose vatniki from anger, suffer.
What for? Do not suffer! The performance is rubbish, return the money. And crawl back into the holes of your ghetto, there for yourself to have fun and ape. And then you show us some Pusek, draw evil drawings about us, read sermons. And such good disappears.
We will arrange the Russian reality somehow, without you, with only God's help. Why? And because we are Russian intellectuals and we like the Russian people. And you - no.
Editor's note: Andrei Nikitin is the author of this video about the revolting Southeast, which gathered at the time of publication of 140 000 + views. So he speaks from experience