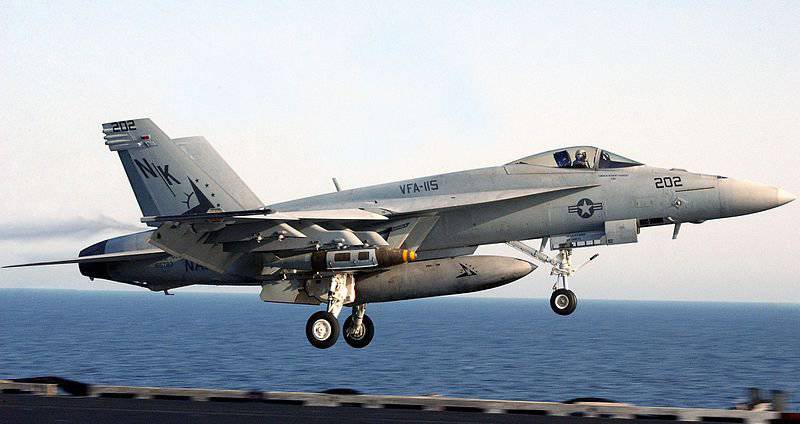 US Navy F / A-18E Super Hornet aircraft lands on board the aircraft carrier Abraham Lincoln
The United States Naval Forces (Navy) successfully conducted flight tests of JSOW (Joint Standoff Weapon - joint weapons beyond the reach of weapons) with a full combat load. The missiles were launched from the F / A-18F Super Hornet multi-role fighter to demonstrate combat readiness. New missiles to combat ground targets were developed by Raytheon.
During the tests, two JSOW II C air-to-ground missiles were launched from a distance of approximately 25000 feet (7600 meters); they flew along a predetermined trajectory before destroying targets, which are models of underground structures or natural caves.
Raytheon's Missile Systems JSOW program director, Celeste Mor, said that test launches had once again confirmed JSOW's ability to deliver decisive impact to the most difficult ground targets that can only be encountered during hostilities.
"Sea pilots used the fire power of JSOW missiles in a realistic tactical scenario of the destruction of an underground structure, which also included intensive radio resistance," said Mohr.
"The result is two direct hits, and all this is a consequence of the use of advanced technologies."
"The JSOW C armament complex is designed to offer naval sailors maximum and flexible capabilities to combat important ground targets."
The inclusion of a GPS-inertial navigation system with highly efficient guidance algorithms in the JSOW C weapon system will allow
the fleet
have an effective means of combating particularly important targets at launch ranges of about 70 nautical miles.
The JSOW C rocket is also equipped with a thermal imaging homing head, which allows to significantly improve the accuracy on the final part of the trajectory.
The self-guided version of JSOW C-1 can work around the clock in all weather conditions. It offers updated capabilities for dealing with moving sea targets, while the common data channel Strike Common Weapon Datalink allows you to transfer information about the target directly to the rocket.
The latest tests were carried out as part of a contract worth 80,5 million dollars issued to Raytheon for the production of 200 serial missiles to those ten AGM-154C-1 JSOW, manufactured in January 2014 of the year.
According to the site www.naval-technology.com