New evidence that the oligarch Igor Kolomoisky plays an important role in establishing new orders on the territory of Ukraine has surfaced on the Internet. YouTube service users have published material, which presents a telephone conversation Kolomoisky and People's Deputy Oleg Tsarev. If you believe the description of the material, the conversation between the deputy and the current head of the Dnipropetrovsk region took place on May 10 and was intercepted by hackers who call themselves CyberPolo.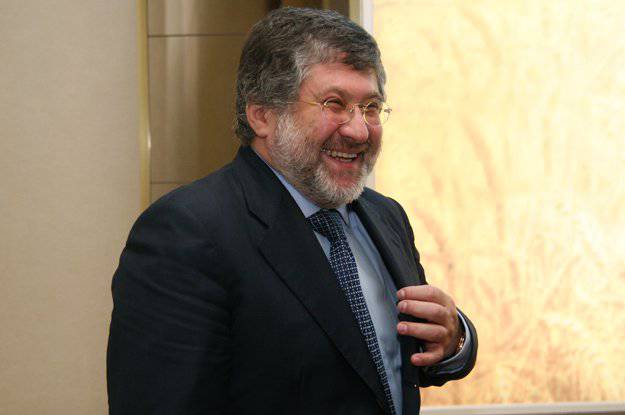 The text version of the negotiations we offer to the attention of readers (profanity withdrawn "IN"):
I. Kolomoisky: Healthy!
O. Tsarev: Hi!
I. Kolomoisky: Where are you? In the same place?
O. Tsarev: Ibid.
I. Kolomoisky: How are you?
O. Tsarev: Good.
I. Kolomoisky: There was a big trouble. Jew one died from the Dnepropetrovsk Jewish community.
O. Tsarev: What happened there?
I.Kolomoysky: Well, a Jew died in one of the Dnepropetrovsk Jewish community. Here, I am now in the synagogue.
O. Tsaryov: What was he doing there?
I. Kolomoisky: Well, it doesn't matter what he did. They said, for your head now give a lot of money.
O. Tsarev: For my?
I. Kolomoisky: One million dollars. For yours. Yes. Moreover, they said they would look everywhere. Well, just said that here it is. I would like to open you so that you are a dynamic in Moscow, do not go anywhere.
O. Tsarev: I wanted to tell you such a thing. In Africa there are such ...
I.Kolomoysky: Tomorrow your people will be caught here.
O. Tsaryov: In Africa, there is such ... such a poison ...
I.Kolomoysky: Listen, I ... what is in Africa. You do not tell me these maize. I will tell you that there was a prayer in the synagogue on the eve of the Sabbath. We prayed for the murdered this, Comrade Shlemkevich, a Jew who was killed in Mariupol.
O. Tsarev: So ...
I.Kolomoysky: And they said that Tsarev was to blame for everything. And tomorrow will be the first to look for all your loved ones. Tell me, so they ... it's better from here. Because we will hang them right on the square. I say, you know, you tell Markov not to go here. To Ukraine. No way.
O. Tsarev: I do not need to call. Do not call me, Igor.
I.Kolomoysky: Do not call you? Everything. Come on. Until.
O. Tsarev: Come on, everything.
In addition to this entry, there is another interesting entry that has become public knowledge. It sheds light on who exactly is behind the murders in Mariupol and Odessa. Oleg Noginsky, head of the association of Suppliers of the Customs Union and unknown to you, Boris Borisovich, may take part in a telephone conversation (perhaps, this is the Israeli consul in Ukraine, Jan Epstein).
Text option:
Yan Borisovich: Hello.
Noginsky: Hello. Jan Borisovich, good night. I am sorry. Happy holiday. Didn't wake you up?
Jan Borisovich: Well, that you. It's so early. Happy holiday too. Peace, health ...
Noginsky: Jan Borisovich, calling on a bad question and very worried.
Yan Borisovich: What is it?
Noginsky: Well, 9 in May in Mariupol did you see what happened, right? A certain Mr. Shelemchak was killed there.
Yan Borisovich: Someone?
Noginsky: A Jew from Dnepropetrovsk. At least, according to Kolomoisky. But worse - this is not the case, but the fact that Mr. Kolomoisky called Tsaryov and reported approximately the following, that today all the synagogues in Ukraine were advertised for all right-wing Jews, that a million were behind Tsarev and Russian separatists. When I heard the "synagogue" ...
Yan Borisovich: This is some kind of nonsense. I just know ... Today I was in the synagogue. We had prayers today. Everything was, so to speak ...
Noginsky: Yan Borisovich, I'm not talking about the fact that, naturally, this was not in the synagogues. But when he speaks about it ... I do not know if his speech was written or not. If it comes to the press, can you imagine what will happen?
Jan Borisovich: Namely for Tsarev?
Noginsky: Yes. A million dollars for his head. And that tomorrow will start to hang his family. His relatives.
Noginsky: Listen, I literally ... Well, you know, Oleg is anyone, but he never lies. And he sent it to me at night, and he was in great shock. And this has already been confirmed to me even by the person who was next to him and heard this conversation.
Yan Borisovich: Horror. No, I don't understand how a Jew can ... Jews in general, so to speak, should never allow themselves anything like that in principle ... He personally called?
Noginsky: Yes. He likes. He recently called Markov (MP) and told him how they would burn him in Odessa if he arrived. He has fun. I do not know, I have a feeling that he is crazy, I will honestly say. And the fully confirmed fact that in Odessa, here these guys hired him. Fully. And in order to install the Club (the governor of the Odessa region, Igor Palitsa) governor. It was already confirmed to me in the BJT headquarters ... They have got the situation out of control. The task was to beat them, to break them off, to be taken to the hospital and completely destroy the camp.
Jan Borisovich: Well, in general, you see, there are avakovtsy. That company could do it all.
Noginsky: Well, there was an agreement. If already ... (inaudible) ... left, in principle, voiced. There was an agreement. He came, said: "What are you messing with this Odessa?" There was this "Kulikovo Field" there all the time, non-stop ... "Come on, give Odessa to me, and it will be the same as in Dnepropetrovsk". Like, not one mouse will not stick out his head. They say to him: "Good."
Jan: He has already arrived in Odessa. He was in Odessa.
Noginsky: He is still there. And he is engaged in the fact that there, on the one hand, for the last three days 16 was killed by a man who was detained and survived after the "House of Trade Unions". Two slaughtered under the house. Well, and so on.
Jan Borisovich: Well, I just, Oleg, I, you see, just can not believe that Benya can do this.
Noginsky: It feels like he's lost his mind. Now, let's say, Korban is very actively trying to take away property from Tsarev. I am already silent about this.
Jan Borisovich: I just do not know him, so I can not say anything. I do not know him.
Noginsky: Well, this is Beni's friend ... And Filatov there and for the Muscovites announced and paid today. I simply ... Jan Borisovich, the fact is that Benin's business is Beni's business. He can do anything. If he imagines himself the second Hitler ... Well, we will have, I think, the second Nazi Germany in the territory of a small piece of Ukraine, Benny is a multi-billionaire and the owner of this territory. But what will happen to Jews throughout the rest of the world ... I just think that it is necessary to somehow urgently withdraw from this process publicly.
Yan Borisovich: I mean? What process?
Noginsky: From Kolomoisky. From benny
Jan B.: Well, how?
Noginsky: Just to report that in this case the world Jewish community, the first: it has nothing to do with the personal position of Mr. Kolomoisky. Secondly: a) not to support neither Odessa, nor Mariupol, nor all of these, and expresses sincere sympathy. And thirdly: reports that if someone from the Jews will be noticed in Nazi crimes, then we will fight first.
Jan Borisovich: Thank God, now everything was more or less calm in this regard.
Noginsky: Especially because of one person who decided to become a billionaire, multi-billionaire, or imagines himself the master of Ukraine ...
Jan Borisovich: No, the question is that the synagogues, they ... The synagogues should always be away from these matters of all. The synagogue is a meeting house, it is a prayer establishment. It should be engaged in the spiritual world of the Jews. And that's all. That is her business, so to speak. Here it is. And to engage, so to speak, in politics, to deal with such things and support ...
Noginsky: I mean ... Just, you know, I have the feeling that, unfortunately, we will not be able to stand aside.
Yan Borisovich: How?
Noginsky: It will not work. By the way, I asked Oleg not to post this business. He had the first thought to bring it to the public.
Yan Borisovich: No. So he does this, of course, immediately on the Jews will begin to roll forward, definitely. Here it is.
Noginsky: What are you ?! Begin a crazy reel. Moreover, they will begin to roll around the world.