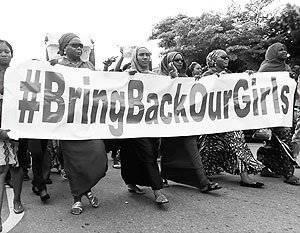 According to the newspaper
"Sight"
, in the territory of the Nigerian state of Borno, detachments of volunteers from among the local residents killed about 200 terrorists from the Islamist group "Boca Haram" ("Black" Taliban ").
It is noted that on April 15 militants "Boko Haram" attacked the building of one of the schools, shooting guards and taking a female student 273. "I kidnapped your girls and will sell them on the market, I swear by Allah!", Said the leader of the group Abubakar Shekau. Later, however, the Islamists announced their readiness to exchange girls for their supporters who were in prisons. Shekau noted that such a scenario became possible due to the fact that all the prisoners were forcibly converted to Islam, in fact, allowing them to stay alive.
According to the publication, it was the abduction of schoolgirls that influenced the creation of self-defense units, which were able to give a fitting rebuff to the terrorists. Many security officials and policemen went in search of hostages, weakening the protection of the cities in which Boko Haram operates. Locals realized that responsibility for the situation falls on their shoulders.
During the next "punitive action", the militants "Boko Haram" were confronted with detachments of armed local residents.
At the moment, representatives of special services and consultants from the USA, France and the UK have arrived in Nigeria. For information about the captives announced a reward in 300 thousand dollars.
The Nigerian authorities have high hopes for the militia, rather than on the participation of Western countries. Official Abuja has concerns that Washington may use the fight against the Islamists as a pretext to consolidate the military presence in Nigeria's oil-rich territory.