Dismantling the monument to Soviet soldiers in Polish Katowice
The authorities of the Polish city of Katowice decided to take down the monument to the Soviet soldiers-liberators of Poland to take up the battles with the dead. With the help of a special crane, the figures of two soldiers were removed from the pedestal of the commemorative sculptural composition "Gratitude of the Soviet Army". It is reported online tv channel
"Day-TV"
.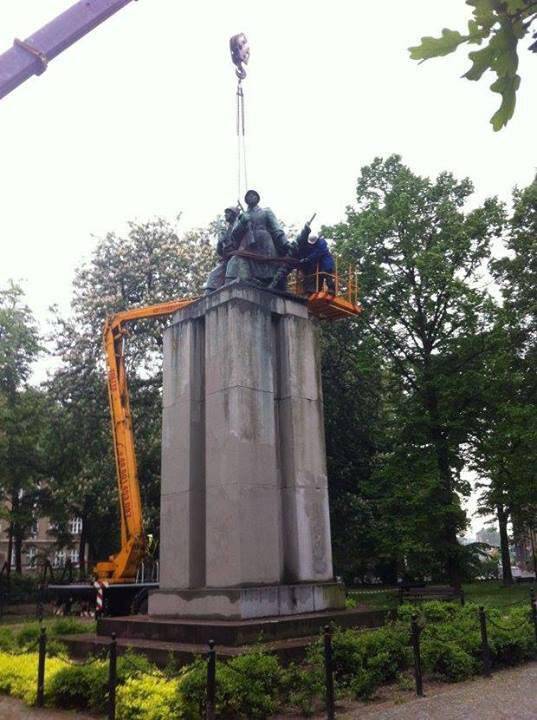 The authorities of Katowice declare that the hype around the dismantling of the monument to Soviet soldiers is raised in vain, as they are not going to liquidate the monument, but merely preparing its restoration with subsequent transfer to the memorial cemetery (a kind of Estonian version of the Bronze Soldier "- note" VO ") . A representative of the city municipality noted that the decision to transfer the monument was made back in 2000, and that the Russian side was allegedly notified then, but "various reasons" did not allow for "reconstruction". What exactly the reasons - in the Polish Municipality Katowice did not specify.
Now, the local authorities are determined to remove the monument in connection with the "renovation" of the square in which the monument was erected. Edition
"Sight"
reports that several years ago the authorities of the Silesian Voivodeship, which administratively owned Katowice, pondered over the issue of replacing a monument to Soviet soldiers with a monument to 40 American President Ronald Reagan.
Not all Poles positively perceive the decision of the Katovitsky authorities to dismantle the monument and do not believe that it was the "restoration" that became the main reason for its dismantling. People are confident that they decided to dismantle it right now to demonstrate a break in ties with Russia "in the name of" familiarizing with Western values ​​and "friendly" support "of the United States. The publication Vzglyad cites one of the residents of Silesia, the former representative of the Katowice City Council, Jerzy Palyuhevich:
No doubt, in 1945, the Red Army liberated лlsk (Silesia). This fact can not be weakened by the tragic events, incidents that occurred here after January 1945. After all, there was a war. Thanks to the tactical maneuver of Marshal Konev, then it was possible to avoid battles and casualties by civilians, not to mention the destruction of cities. We must remember this.
Negative responses to the dismantling of the monument in Katowice from citizens of various European countries who survived the horrors of Nazism began to appear in blogs.
https://www.facebook.com/DenTvRu