In Zelenodolsk build border guard ships of the project 22100 "Ocean"
Tatarstan business resource
"BUSINESS Online"
published an article about the serial construction of large border guard patrol ships of the 22100 "Ocean" project for the Coast Guard of the Border Guard Service of the Federal Security Service of Russia at the Zelenodolsk Plant named after A.M. Bitter ", which is part of the" Ak Bars Holding ".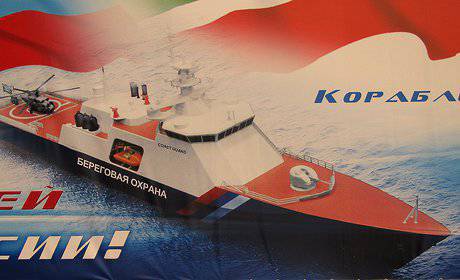 According to the publication, the plant in Zelenodolsk received an order for five more ships in addition to the lead ship already under construction, which was laid on 30 in May 2012 of the year.
It is planned that the launch of the head "Ocean" will take place before the end of May. It will be the first patrol ship of the 1 rank, built specifically for border guards. Despite the extremely short deadlines, they managed to achieve "unprecedented comfort in Russia". In addition, it is noted that the "Ocean" has no analogues in technical characteristics.
"There are ships with 20 speed, there are ice-class, there are with a range of 12 thousands of miles, 60 days autonomy, but there are no ships with all these characteristics at once," the ship designers from TsMKB Almaz "in St. Petersburg.
The patrol ship of the 22100 "Ocean" project will participate in rescue and search operations and support the work of FSB special forces in the northwestern Pacific Ocean and in the Arctic and non-Arctic seas of the Russian Federation. It is equipped with an onboard Ka-27 helicopter, as well as boats that can be launched and lifted aboard while in motion.
The ship's armament consists of an 76-mm artillery mount and two sea thunderbolt machine-gun "Sting". In addition, it will be equipped with new electronic intelligence and surveillance systems.
http://www.business-gazeta.ru/