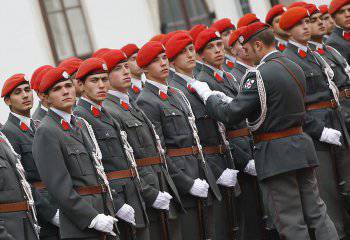 As the
"RT in Russian"
, the Austrian Association of Officers condemned the actions of the government to reduce the military budget, noting that soon the armed forces simply could not defend the country. As an example, Ukraine is given, where a similar policy significantly weakened the army.
According to the president of the association Erich Tsibulki, in a few months the army will not be able to cover its expenses.
Earlier, the Austrian Minister of Defense Herald Klug said that this fall the military will not be able to buy fuel for the needs of technology. According to the ministry's estimates, in 2015, due to budget savings, army financing will be 0.6% of GDP.
The military budget is 1.95 billion euros, of which 1.3 billion go to pay the military. And in the current year there will be no funding for the development of defense. According to the minister, the military will not be able to repair even their tents.
There are also doubts about the modernization of the Austrian helicopter fleet. According to the Minister, by 2020 the armed forces may lose their rotorcraft altogether.
aviation
.