Arson of PrivatBank branches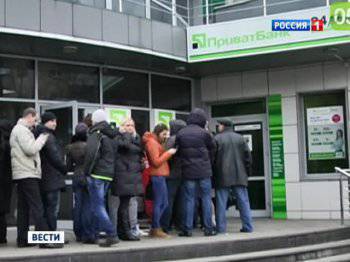 Information Agency
"Vesti"
reports that the real hunt for branches of PrivatBank, owned by the Ukrainian oligarch Igor Kolomoisky, has begun on the territory of the Odessa region. In particular, today unknown persons have blown up a pipe which was stuffed with bolts at the entrance to a branch on Krasnov Street. The management of the bank announced a reward for information about suspects in the amount of 50 thousand hryvnia (approximately 4 thousand dollars).
Over the past day, three PrivatBank offices in the region have suffered. A branch located on Zhukov Street was also set on fire, and an unknown ATM was broken in the village of Troitskoye.
According to representatives of the police, a branch of the Kolomoisky Bank, which supported the change of power in Kiev, has been subjected to attacks and arson in the last two weeks.
It is worth noting that Kolomoisky, appointed head of the Dnipropetrovsk region, announced an award in the amount of 10 thousand dollars for the capture of supporters of federalization in the east of Ukraine.