In Turkey, protests began because of an accident at the mine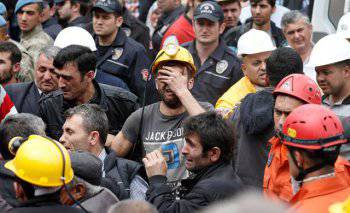 According to the information agency
"Vesti"
,
tragedy
at the mine near the village of Soma became the largest in
stories
Turkey According to the Minister of Energy and Natural Resources Taner Yildiz, by now the death toll has reached 274 people.
"Time is working against us. To date, there are two difficult areas. The fire does not stop underground, "he added.
According to the agency, recently it became known that two weeks before the tragedy, the deputies of the Justice and Development Party had excluded from the agenda the issue of an inspection at the mine. This caused stormy discontent among residents of the city of Soma. Protesters attacked the car of the party's leader, Prime Minister Recep Tayyip Erdogan, calling him a "thief" and a "murderer".
Protests also took place in Istanbul and Ankara. In the capital, police had to use water cannons and tear gas to disperse the crowd at the entrance to the Middle East Technical University. The protesters were going to go to the building of the Ministry of Energy and Natural Resources.
In connection with the tragedy in Turkey declared a three-day mourning.