Donbas militiamen are ready for a counterattack, and where is the wounded Valery Bolotov being treated?
The co-chairman of the presidium of the Donetsk People's Republic, Miroslav Rudenko, said that all the Donbass police had gone over to the Donetsk side and refused to submit to Kiev. This fact affected the morale of the army of the southeast, the command of which announced that now the fighters of people's self-defense have the opportunity to move from defense to attack on Kiev punitive units. Reports about it
RIA News"
.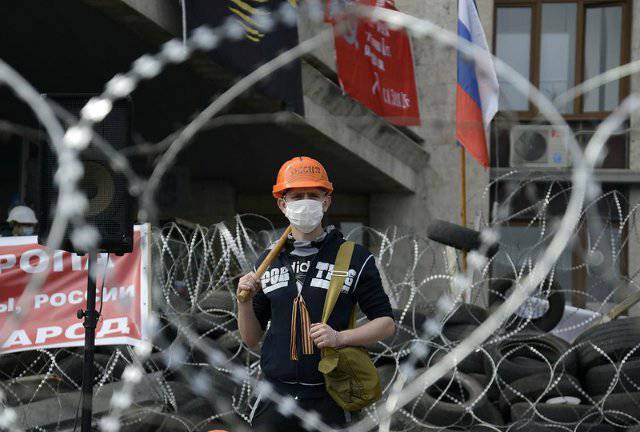 A spokeswoman for the people's governor of Slavyansk confirmed information that the militiamen are going to launch a counterstrike on the positions of the Ukrainian troops that surround the city.
One of the response operations Donetsk militia was carried out the day before. In the course of it, they managed to capture the head of the department of the All-Ukrainian Military Space Command (Eastern Territorial Command) of the Armed Forces of Ukraine Yuriy Lebed. Colonel Lebed is called one of the most active officers of Ukraine involved in the punitive operation in the southeast. Kiev "authorities" do not confirm the capture of Colonel Lebed in the Donetsk region, but many Ukrainian media have printed on the front pages
news
that Swan is in the hands of Donetsk militia.
Meanwhile, a scandal erupted in Kiev over the fact that the wounded on the eve of the people's governor of the Luhansk region, Valery Bolotov, was transported to Russia for treatment. Ukrainian edition
UNIAN
reports that Bolotov is located on the territory of the Russian Federation, having passed the "Dolzhansky" customs control point. The State Border Service stated that they released Bolotov from Ukraine, since there were no bans on his departure.
Meanwhile, the press secretary of the leadership of the LPR Vasily Nikitin in an interview with the TV channel
RT
did not confirm the information that Bolotov was taken to Russia.
The so-called "acting president" Turchinov has already demanded an explanation from the SBU, the State Border Service and the State Border Service regarding the "departure of Bolotov".