Ukraine covers punitive operation with UN symbols
Yesterday, photos from the Donbass came, in which a helicopter of the Ukrainian army with UN identification marks (UN) was recorded, which participated in the punitive operation in the south-east of the country. United Nations officials commented today
ITAR-TASS
strange footage.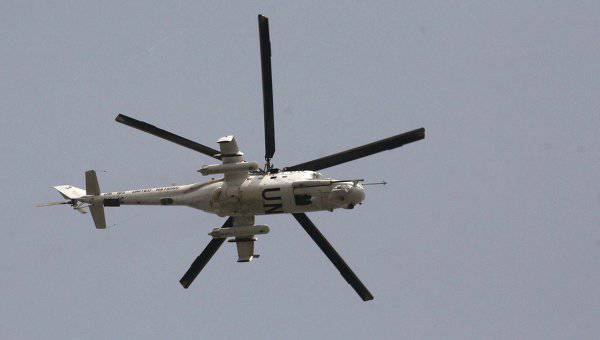 The UN noted that Ukraine had no right to use helicopters with the logo of the Organization in the operation that Kiev launched on the territory of the Donetsk region. The UN official said that if Ukraine temporarily provided its UN aircraft to carry out, according to a specific mandate, peacekeeping operations in certain regions of the world, after returning these helicopters to Ukraine, Kiev was obliged to remove the Organization's symbols from this technology.
Reportedly
Vesti.RU
, Ukraine provided the UN with helicopters for operations in the Democratic Republic of the Congo.
The head of the Russian Ministry of Foreign Affairs gave his comment on the unauthorized use by Kiev of UN symbols by helicopters involved in the punitive operation in south-eastern Ukraine. Sergey Lavrov in an interview
Bloomberg
stated that you need to deal with the situation:
Of course, we want to understand how it happened that the helicopters with the UN logo were used against the protesters in the south and east.
According to residents of the Donetsk People's Republic, against which the so-called anti-terrorist operation of Kiev is directed, the junta used helicopters with the symbols of the United Nations to hide behind a non-existent international mandate.