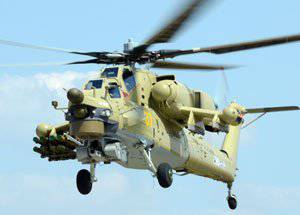 According to the
"Military Industrial Courier"
, already this year, the Air Force of Russia will receive the latest Mi-28H "Night Hunter" training and combat helicopters with a double set of controls produced by Rostvertol, which is part of the "Helicopters of Russia" holding.
The Mi-28H training helicopter made the first flight of the 9 August 2013 of the year at the flight research station in Rostov-on-Don. The testing of the new machine was observed by the general director of Rostvertol, Boris Slyusar, and the commander-in-chief of the Russian Air Force, Lieutenant-General Viktor Bondarev.
"The car completed the flight, which lasted more than 30 minutes. Everything went well. All flight details were recorded on automatic recorders, which will be decoded and analyzed. The pilots reported that the machine was ready for further testing and mass production, "Bondarev said after completing the flight.
The presentation of the dual-control Mi-28H helicopter took place at the Moscow Aviation and Space Salon in August 2013.
The main purpose of the new helicopters is the training of piloting the Mi-28H "Night Hunter". At the same time, the entire functionality of attack helicopters is preserved. The main difference of the training modification is the presence of a double hydromechanical control system, which allows you to control the machine, both from the cockpit and from the cockpit of the pilot-operator, which serves as an instructor.
According to Lieutenant-General Viktor Bondarev, the Russian Air Force plans to get 40-60 Mi-28H with dual control until the end of 2020 of the year.
"We will take four to six cars for each military unit that operates helicopters. In total, 2020 – 40 machines will be purchased before 60, "Bondarev said.
It is worth noting that, according to the director general of Rostvertol, Boris Slusar, they have already begun to receive orders for Mi-28Н training with dual control from representatives of other countries.