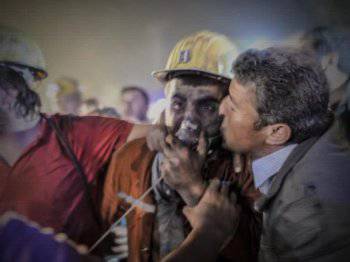 As noted by the news agency
"Vesti"
, an explosion at a coal mine in the Turkish city of Soma has already killed more than 200 people. At the moment, hundreds of miners are blocked in the mine, to which rescuers are trying to get.
A fire in a coal mine in the western Turkish province of Manisa began on May 13. According to preliminary information, the cause of emergency was the malfunction of the power distribution board, which led to the ignition of methane. Electricity stopped flowing into the mine, ventilation systems and elevators stopped.
According to Taner Yildiz, Minister of Energy and Natural Resources of Turkey, 367 people from 787 who worked at the mine were evacuated on their own. 76 miners were hospitalized, one of which is in critical condition.
Doctors say that the majority of miners died from carbon monoxide poisoning. So far, rescuers have been able to restore the supply of electricity and oxygen.
Turkish Prime Minister Recep Tayyip Erdogan expressed his condolences to the relatives of those who died at the mine and wished a speedy recovery to the injured.
"We are making every effort to save those who still remain under the rubble. Rescuers work tirelessly to save lives. And we hope to save everyone, "he said.
The causes of the accident have yet to be established, but the Turkish Ministry of Labor has already stated that the necessary safety precautions were observed at the mine.
However, while the number of victims continues to increase. This incident may be the largest in the number of dead miners in the Turkish
stories
, overtaking the 1992 tragedy of the year in Zonguldak province, when the 263 man died.