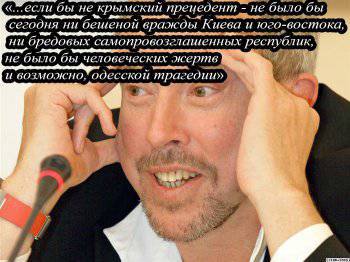 As the
continentalist.ru
, Andrei Makarevich, who supports Euromaidan, spoke about the causes of the Odessa tragedy, in fact accusing not the Kiev junta and neo-Nazis, but Russia.
"... if it were not for the Crimean precedent - today there would be neither mad enmity between Kiev and the southeast, nor delusional self-proclaimed republics, there would be no human casualties and perhaps the Odessa tragedy," he said.
As noted on the site, with the support of Makarevich made the leader of the "Right Sector" Dmitry Yarosh, who called for orientation on Makarevich and another Euromaidan fan Yuri Shevchuk in an interview.
"I don't see one pro-Ukrainian politicians clearly, but there is Shevchuk, there is Makarevich. They are not just musicians, but also occupy a clear civil position in Russia. I would personally be guided by these people than by politicians, because the KGB system did everything for that, "he said.