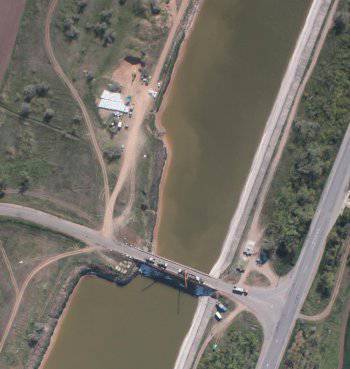 According to the
"RT in Russian"
, the Ukrainian State Water Agency officially confirmed the fact that the supply of water through the North-Crimean Canal was cut off. At the moment, the water goes only to the Kherson region.
"The North-Crimean Canal operates in an operational mode, which is adjusted in accordance with the needs of water users in the Kherson region, due to the lack of constructive proposals for formalizing contractual relations to ensure the water resources of the Crimea for drinking water and irrigation," representatives of the agency said.
In addition, the department once again stressed that the Crimean water users do not want to pay for the supply of water for 2013 a year.
Earlier, statements by the Crimean authorities were published that the Ukrainian side uses formal pretexts to block the signing of an agreement on the supply of water along the North-Crimean Canal to the territory of the peninsula. In addition, Ukraine does not accept payment for water supplied in 2013.
The North-Crimean Canal connects the channel of the Dnieper and the peninsula, providing 85% of the needs of the Crimea in fresh water. However, after the Crimea joined Russia, the Ukrainian side closed the gateways, limiting the flow of water to a critical level - 4 cubic meters per second, while the norm is 80-85 cubic meters.
7 May reported that a dam was being built out of sandbags near the bridge near the village of Kalanchak to completely block the water. However, the chairman of the Kherson regional administration, Yuri Odarchenko, said that it was not a dam, but a technological water metering station for the peninsula. "Now on the territory of the Kherson region a metering station is being built, which technologically allows absolutely clear, almost up to a liter, to take into account the water that can be supplied to the Crimea," he said.