Russia submitted a draft resolution on Syria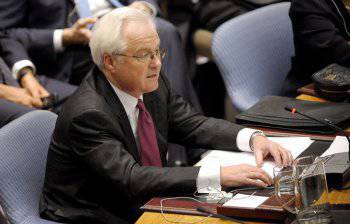 According to the correspondent
ITAR-TASS
Oleg Zelenin, on Tuesday, the representative of the Russian Federation to the UN, Vitaly Churkin, said that the Russian Security Council had submitted a Russian draft resolution aimed at supporting negotiations between the opposition and Damascus and a political settlement in Syria.
It is noted that the text of the document affects the humanitarian aspects of the situation in Syria, and when writing it, we used the positive experience of the truce between Damascus and the opposition in Homs. "The document says that the political process should be promoted, but the main point of reference is the local truce that was achieved in Homs," said Churkin.
According to Churkin, the Russian initiative is not a countermeasure to the French draft resolution, which was introduced last week, providing for the Syrian situation to be considered by the International Criminal Court in The Hague.
"We believe that we need to move forward. This is our idea of ​​how to take a step forward, which will help create a better atmosphere for a political settlement and, in general, for rectifying the situation in Syria, "he said.
Russia's initiative was supported by the Permanent Representative of Syria to the UN, Bashar Jaafari, who noted that in recent days about two thousand militants and their family members had left Homs. He said that the Syrian authorities are not going to stop there.
"This process continues, we have already succeeded - not only in Homs, but also in the suburbs of Damascus, including in Muadamia, as well as in many other places - in Hama, in Dera in the south and Aleppo in the north," he said.
According to the diplomat, after three years of conflict, the rebels "open their eyes and begin to realize that they were wrong."