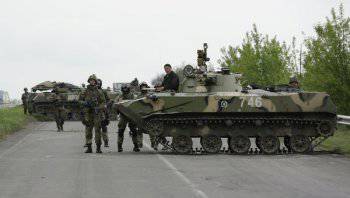 According to the
"Russian Spring"
, 13 May under the Kramatorsk fighters of the local militia and volunteer Cossacks attacked an army convoy that was trying to break through to Slavyansk through Mikhaylovka. As a result of the battle, two armored personnel carriers and one infantry fighting vehicle were burned. Helicopters arrived at the scene of the collision, after which the convoy retreated to Karachun.
"RT in Russian"
also reports on battles on the outskirts of the city, during which six soldiers and one militia were killed. Another soldier died from his wounds.
"It was about 12 hours of the day. The Ukrainian army carried ammunition to the city of Kramatorsk from the village of Oktyabrskoye. On the bridge, our militia undermined a car with ammunition and set fire to an armored troop-carrier. 6 man killed and 8 injured. Our people met them with dignity, "said a resident of Kramatorsk named Vladimir.
RIA
"News"
notes that information about the death of seven paratroopers of the 95 of the airmobile airborne brigade of the armed forces was confirmed by the Ministry of Defense of Ukraine. It is noted that eight more were injured.
According to the
"Russian Spring"
, in the battle near the village of Mikhailovka, a volunteer Sergey Grishin died. "We all die. Unfortunately, we do not decide how. But we can decide how to meet our end in order to be remembered by men, "he wrote on a page on the social network shortly before his death.
Also
сообщается
that in the Donetsk region self-defense forces conducted a successful operation, which resulted in the capture of the head of the Eastern Territorial Command Colonel Yuriy Lebed.