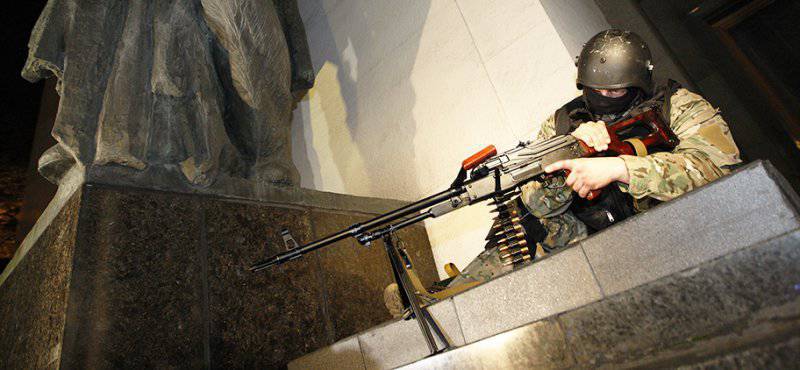 City Izyum, Kharkiv region. Ukrainian military stands with his back to the fence. Looks around at the people leaving the neighboring courtyard. He is wearing a protective color. On the head tucked balaclava.
"Today, boy conscripts were shot like partridges," he says. - We do not clearly understand where the terrorist is. Ours are now saying the same thing that the Berkut people used to say: we returned from the Maidan, they poured mud at us, opened criminal cases against us. On what basis are we here now? We ask to introduce martial law in a separate territory. The law on martial law clearly divides people into civilians and accomplices. Shooters are already beginning to prosecute. Therefore, we are afraid to apply weapon. We have no legal basis for this. Now what happens? We drive up to the roadblock on the vehicle, the separatists immediately go into the forest, leaving only unarmed people there. We drive up, they give up. But as soon as we drive off from the roadblock, the separatists come out of the forest again. Such a tactic ... We can only shoot according to the law on the police - when they shoot at us. That's bullshit. Legally, we would free the city behind the city. But for this we must understand: if we use a weapon, we will get nothing for it.
His time at the fence has expired. Looking around, he walks off quickly.
***
Restaurant "Seven Winds". At the next table sits an unfamiliar tight man in a sports jacket. For a while, he eats a cutlet with red wine.
- Colleague, let me ask where you're from? - A skinny young man with big teeth and a badge dangling on his chest come up to me. Badge reports that the Kharkov journalist came up.
- I do not think that we are colleagues- I answer, and he, having exchanged glances with the man at the next table, leaves.
Removed the man himself. It does not take five minutes, as in the dark interiors of the restaurant, which in the city of Raisin is considered the most expensive, four of them appear in police uniform.
"Please present the documents," one of them appeals to me.
"On what basis do you want to check my documents when I have lunch?" - I ask him.
- In the city martial law. You did not know?
- I know that there is no martial law.
- Please present the documents, or you will have to take a ride with us. - They surround my table.
— What if you are dressed as terrorists? - I guess. - Present, please, first your documents.
They refuse. For some time we repeat the same phrases: I refuse to show documents until they show theirs. In the end, they get their crusts out of their pockets, and I get my press card from my bag.
They leave the restaurant, talking: "Here they are, the Russians. What all rush to them? In two minutes she had time to morally bite us ... "
***
The track adjacent to the "Seven Winds". I walk on it, fearing to call a taxi. A car passes by with the same policemen. Hiding. An armored vehicle appears. Stops at the curb. When I come, the door opens. A military man with whom I was talking at the fence peeks out of it, gesturing to quickly get into it. Front two more. One removes a helmet from his head and stretches it to me. On the floor machines, body armor and other military accessories.
The car enters the camp and stops near the tents of a protective color. Near them hired men and representatives of the Maidan self-defense, who joined the National Guard. Left armored personnel carriers (over one flying the Ukrainian flag). Behind the helicopter. Past the tents is a man in a sport jacket.
"I just saw him in Seven Winds."- I say. - He ate a cutlet and drank wine.
"This is Rudnitsky," the commando responds. - Kerivnyk ATO (the commander of the anti-terrorist operation. - "PP"). Moron, condom and schmuck. He conscripts crumbled in the morning, and he drinks wine. And what for him killed people? He doesn't care. This schmuck called up with retirement. He is a general lieutenant. All his life he commanded the internal troops. Stupid to mayhem. You can imagine what tasks he sets for us: "You go along this road in that direction. There will be a roadblock. Come and shoot him. " We answer: "Well, well. And there are clearly established separatists? "-" No, there is a roadblock, which means our enemies are there ". - "Oh well. And if there are just people standing with sticks or wearing helmets? "-" Listen, do not ask stupid questions! Go and shoot! "-" No, Comrade Lieutenant-General, if you need, then you go and shoot yourself. "
- Do you have the right not to execute the order? - I ask, while those sitting in the car escort their gaze "kerivnyka." In their eyes, no malice, no hatred, just surprise.
- And we do not care. Well, what will they do to us? With the war fired? Right from the front? We are trying to explain to our moron, - my friend nods at Rudnitsky, - that there are two ways of conducting military actions: with mind and quantity. He wants to fight by quantity. That is, human losses. We take them, pick them out of these occupied buildings, and for them an automatic amnesty ... We offer a more professional option. But he needs money. And this one, who drinks wine with cutlets, is afraid to call upstairs and report that he needs money to complete his tasks. From above they ask him: "Why have we put you there? You can not cope. Therefore, it creates the appearance of the task.
- How?
- With the help of media. Didn't you hear what you gave yesterday? Slavyansk under the control of power structures.
- Isn't that right?
- Of course not! Visibility is needed for European investors to give money.
- A "Golden Eagle" and "Alpha" is also here?
- On "Golden eagle" and "Alpha" criminal cases for the Maidan are brought. They had an alternative: either to go here, or to go to prison. "Berkut" and "Alpha" are hostages of the situation. Their fate in the hands of Avakov. The history is written by the victorious ... Well, we went. We have little time. We go out at night.
***
Second day. The same car stops at a residential building. Bending his head in the hood, my yesterday's interlocutor moves in short runs to the entrance. Today, on top of military clothing on it is a sports jacket. He looks around stronger than before.
"We have about seven minutes," he says deafly and not as confidently as yesterday.
- What happened?
- Today we were ambushed. I have three hundredths (fighters with wounds. - "PP"). Nobody talks to us! No one talks to people of my level! - he removes the hood. Beneath it is a thinning face, swollen nose, abrasion on the cheek. - They want to force us to carry out stupid orders! But you will not force us much! We are thinking people. They then board the plane and fly away, and we are responsible.
- Are you still ready to shoot?
- Yes. People with weapons - yes. If people who do not belong to any official structure seize administrative buildings, we inform them: "Guys, the armed forces work here. We give you twenty minutes. Come out with your hands up! Put the weapon next to your left and right. You fall under the amnesty law announced by the government. " If you do not do this, then in twenty minutes you automatically become criminals, and then the building's storming begins.
- You shot people today, right?
"No," he says softly, and closes his dark eyes. It becomes clear: today he shot people.
We are silent. Time is running out.
"Yes, I see that the people live poorly here," he starts dumbly. - Yes, I see that the people here are driven by these oligarchs. Driven into such conditions ... - does not finish. - But it all turned into ... They wanted, went into the store, took what they wanted and left. In the same Slavyansk and Kramatorsk people themselves suffer from them.
- Is there a "Right Sector" here?
- I did not see any "Right Sector" here. I saw self-defense, which joined the National Guard. "Golden eagle" saw. "Alpha" saw.
- Self-defense Maidan had little time for military training. How do they cope now?
- We are all great strategists, looking at the fight from the side. It's one thing when you throw paving stones and Molotov cocktails at the Berkut and understand your impunity ... Another thing is that when you go with a gun, people with a gun are against you too. Yes, we are lucky so far. We fired a machine gun, the separatists understood everything and came out with their hands up ... Well, our sniper worked a couple of times. But so, without bravado. As for self-defense, the attitude that they received on the Maidan is not quite the same as vocational training. If you are wounded from a weapon - it is not a mosquito to shake off, you fail. And what is this technique? They have stress points. And to this hearth comes a wife with a stroller. This is a very difficult tactic for us. How to shoot? And how do they attack our controlled objects? Normal stop. People are waiting for a minibus. A car pulls up, two guys in sports jackets come out of it. One tells people: "Stay here. Nobody runs away. " The second guy from the grenade launcher shells our object with one hand. Moves to another, fastens another horn, shoots. They get in the car and drive away. And people are worth it. They shoot from behind their backs! Neither the sniper nor the shooter can not aim! But this is not done by Russian soldiers. Russian soldiers do not know where to stop, where to get the car, where to go. All this is local. But your give them a weapon.
"I spoke to the locals." Ninety percent of the population is against you. What do you need: territory cleaned from people or people themselves? You cannot clear ninety percent of the population.
"I understand this every day more and more ... These people never left Eastern Ukraine any longer." They have nothing to compare. These are poor, discarded, useless people, intimidated by the bloated "Right Sector". Let it be bad, as always, if only stability ... Yes, all political ways to solve the problem have not been exhausted. They even no one thought to use. Nobody talked to people. And it was necessary. Not a single politician was here. They do not meet with them, and they do not meet with us. Yes, there are no questions - get on the armored car, we will protect you, go to the people in the captured district department. Make reasonable demands, argue. It's easy to call them separatists on TV, and drive along these roads, go to local stores and see their range. Not. What for?
- But will you still take Slavyansk and Kramatorsk today?
- And we will take them ... Only at what price ...
- The price - from which side?
- What's the difference? And there are people, and there. At the cost of human life.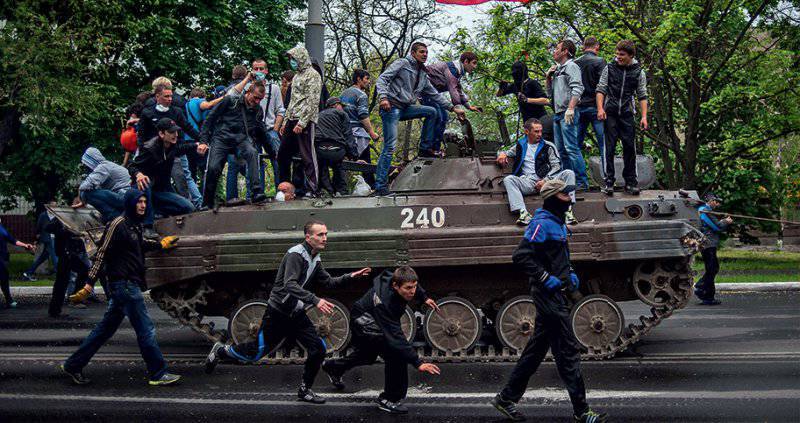 Third day. Cross the dark courtyards. I go out on the lighted road. Local walk around. Not long crowded at the grocery, already closed stalls, quickly talking and immediately diverge. I hear the words: "boomed", "mortars", "sector", "bitches".
The lights come on. Making the step quicker, I walk to the car. The door opens. Sit in a dark interior. Persons not visible. He has a deep hood.
- Turn on the lights- I say.
"For God's sake," he lights a light bulb on the ceiling.
His cheek is bitten. The two front seats in the car are empty. Behind the seats are two helmets.
- Where are they? - I nod ahead.
- They are not.
- So where are they?
- They are not.
- They are not here?
- They are two hundred ... We were ambushed. How ineptly everything is planned! So stupid that you can't even imagine, it turns off the light. A tired voice comes from the darkness: - At first I thought that they couldn't put such mediocrity on the leadership, but now I understand that they specifically put such people who initially can't do anything constructive. And they do their work on doing nothing professionally. Now I understood why we needed them.
- For what?
- To cover up our blood.
- And you have smeared?
"Nooo," he says, and from his voice, I again understand that he is lying. "We only fired when they shot at us."
- They are not to blame.
- Who?
- Those people you shot at. They are not guilty that they were brought to such a life, and then immediately turned against the barrel of the machine gun. Why are you shooting at them? On their own land.
"Sit here, I'll be right there," he says, opening the door. - I have to report back. Lock down I knock on the glass five times when I get back - he gets out of the car with a limp. "It's over," explains.
An hour and a half later, they knock on the glass - five times. I open the door. He comes in. Sits down. He lights the light and stares at one point for a long time - where the man who gave me his helmet sat yesterday.
"They were surprised ..." he says dully.
- Who? What
- My management was surprised that I came back alive. They asked to write an explanatory.
- About what?
- About how I managed to get out of two ambushes. This pack of big-bellied generals wants us to explain to them how miraculously we got out of ambush. Do you understand that they did not expect us alive?
- Get out of this war.
- This is not my war. But I am a soldier. I am a member of the ATO. I can not say: "Everything, for me the war is over, I am leaving."
"Tomorrow these generals will be judged ..."
- We drove to the checkpoint, he was blocked by tanks with fuel. We started to drive up - they shot at us with a grenade launcher. We also shot back. Bypassed this checkpoint. We went one more. We went into the administrative building - cleaned out. Began to leave, there are already a lot of people gathered. Jumped on the armor and left. When we approached the roadblock, they were already waiting for us. They have an agent network - the whole city. Then we went to pick up ours, who were ambushed. While they were following, three three hundred and two two hundred. We ourselves were ambushed.
- How did she look?
- As usual. They just set fire to tires in several rows. We stopped, I cleaned up this burning nonsense. They shot at us from a grenade launcher, but again did not calculate: it was dark. I was just in front, and the guys were behind, well ... that's how it happened, he says in a whisper. - Guys hurt.
- What did you feel?
"Nothing," he says without emotion. "You feel nothing in the heat of battle." In the heat of battle, only instincts work.
- What kind?
- You hear very well - everything. You see what in peacetime you do not see. See through the bushes. Looking for danger everywhere. I clearly heard the clatter of bullets about armor, I heard the commands of elders. But the psyche has not yet departed. You have no idea what it is ... And the burden of betrayal puts pressure on me.
- Whose?
- The betrayal of those people who declare very different things. Which should help, instead of betraying. We work to restore constitutional order. And we do not have time to sit on the armor, as we immediately pass.
- Who gives?
- Own. I am more than sure.
- And how do you survive?
- By chance…
- Do you understand that there is no honor to shoot your fellow citizens and expose your fighters?
"What can I do if he is a soldier?"
***
They are going away. And not only they. Elite divisions are also leaving, refusing to shoot anyone in an incomprehensible way. Referring to the fact that they cannot clearly distinguish the civilian population from mercenaries. Demanding to give a legal basis for finding special forces in the ATO zone. "We have no right to carry out criminal orders," they said. - The experience of "Berkuta" showed that people who follow orders become extreme. And the leaders disappear somewhere. "
In a few days, he will send me a message: "They are blackmailing us. They make you go to the next hot spot - but honestly, to the meat grinder. There is a tactic of detachments of the NKVD: either go ahead or shoot. In this case, requests for retrofitting are ignored. And the most important thing that is not taken into account is the law on martial law. "
Now with respect to this military and many others, an internal investigation is underway.