As reported on the site
Ministry of Defense of the Russian Federation
, new KamAZ-65225 truck tractors with trawls for transporting heavy tracked vehicles entered service with the Eastern VO. In particular, they were sent to the disposal of the military repair brigade stationed in the Amur region.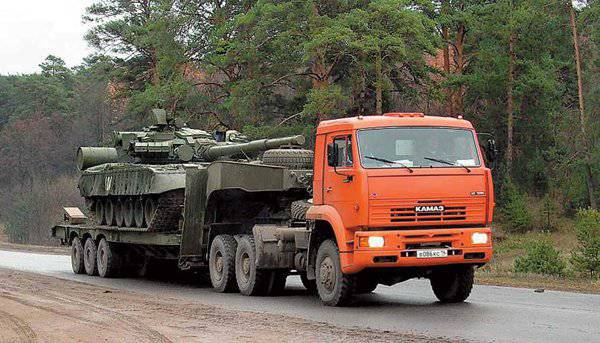 And although the first batch amounted to only four cars, during the year it is planned to send more than a hundred units of road transport for various purposes into service with the district.
It is worth noting that the new tractor has a more advanced technical device and characteristics, compared with the previous generation of this type of equipment intended for the army.
The main purpose of the tractor is the transportation and delivery of heavy military military equipment for the repair. They are also often used for transporting over long distances along asphalt tracked vehicles. This not only saves considerable funds, but also keeps the pavement intact.
The KAMAZ-65225 truck tractor is most often used with semi-trailers. An additional hydraulic winch is installed on the machine, which makes it possible to drag armored vehicles onto a trailer without any difficulty using an automated device. According to experts, the car has a turbocharged diesel engine. Also, a bonnet cab with an autonomous heater and a specially equipped berth is installed on the tractor.
New tractors were sent to the Amur region as part of the re-equipment program of the Eastern VO and arrive at the place of deployment directly from KamAZ.