Department of State: The United States did not agree with the results of the hockey game ...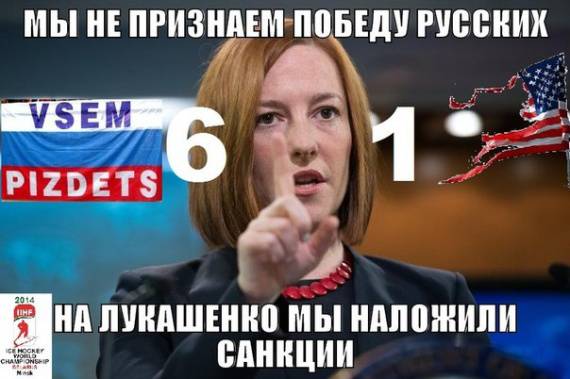 The United States reported a categorical disagreement with the so-called "victory" of the Russian team in the match at the World Hockey Championship.
This was stated by US State Department Speaker J. Psaki: "This match had nothing to do with real hockey. In the 21 century, one cannot play hockey as if it were the age of 20 in the courtyard.
The imperial ambitions of the Russian national team are vividly demonstrated in the very methods of playing the game, as it was in the worst years of the USSR: the dirty puck carousel, which the Russian team arranged for the US team and blocking the democratic pucks, is an attempt to revise the status quo and the threat European security. "At the same time, J. Psaki asked the journalist that she did not know what a carousel is, but it is written in her text and she is sure that this is something terrible and incompatible with universal human features:
"We have no doubt that Russia is behind all this. This is evidenced by the recent participation of Putin in the match of the so-called "Night Hockey League", where he personally threw 6 pucks into the gates of the enemy. Now his whole bloody idea becomes obvious, it was all planned by Russia from the very beginning. "She also said that President Obama expressed deep concern about the results of the game and said that" Russia is now not only on the wrong side
stories
, but also on the wrong side of geography, physics, and even physical education. "
She also said that economic sanctions would immediately be imposed against the players of the Russian national team: "We, together with our European partners around the world, decided to impose immediate extensive economic sanctions against those directly involved in the incident. Russia will pay dearly for it. We have made a difficult decision: all the discount cards of the Russian national team players in the European and American networks of sports shops Reebok, Nike, Adidas will be frozen until the next seasonal sales.
The performers of imperial designs must understand that they will not be left out. "Separately, Ms. Psaki pointedly pointedly shaved, in protest against Eurovision, Ovechkin's hockey player's beard:" This is a protest against European values, against the choice of Europe! In the 21 century, you can't just take a beard and shave off if you don't like something! This is unacceptable, the beard should be returned immediately! "
Later it became known that the US 6 fleet will be immediately deployed to the shores of Belarus to strengthen security during the World Cup. The absence of the coast of Belarus, apparently, does not bother the representatives of the White House. ©