Not long ago, I returned from the city of Rzeszow, where I was invited to the VI Congress of Polish geopolitics. To get to Rzeszow from Kaliningrad, it was necessary to cover the whole of Poland from north to south and back. And everywhere I heard two words - Russia and Ukraine.
"It was amazing," I wrote on the first evening of my travel notes. But now I correct: "This is not surprising." The fact is that after communicating with the Poles - from bloggers to professors - it became clear: this Slavic people are very worried that they are flying by
Stories
. Once again flies past history. First of all, it is connected with the awareness of the collapse of his childhood dream - the creation of Wielkopolska from sea to sea. Communicating with me, the Poles respected the "imperial idea" of Russia - the annexation of the Crimea and ambitions to the Ukrainian South-East, realizing that there should be no two "imperial ideas" on one piece of Europe, and that means that there should be a cross during the revival of Intermarine . However, first things first.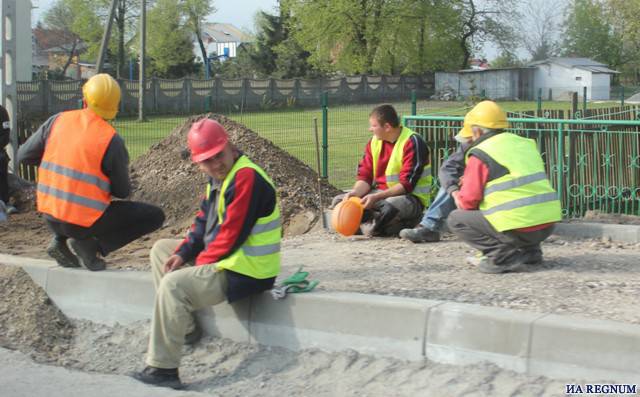 Road workers in the south-east of Poland ("As Uzbeks in Russia, we have Ukrainians")
Wrong zapadentsy and Donetsk
The "Ukrainian" theme started playing even in Kaliningrad, when the bus to Warsaw for five hours became a tiny "Soviet Union". Of the seven passengers, two of them had passports of Moldova and Ukraine, and three more were born in Kazakhstan and Lithuania. I want to tell about this Ukrainian woman, how she jokingly called herself, "the wrong zapadenke". Through a chair from me sat this woman with five dozen behind her back and painted in pitch smol. She herself lives in Lviv, and the children - in St. Petersburg.
"How can I blame Russia if my children work there?" She smiles guiltily. "Yes, they rent housing, yes, they work not at all for prestigious jobs, but they are still young — they will earn money for an apartment and for a living."
The Ukrainian woman returns from her children (through Kaliningrad) to her "zapadensky" Lviv and admits that she has to keep silent about the trip. At parting, she gives me a hryvnia. I choose 5 kopecks, but she puts all the little things on her palm with the words: "Take more. Now this is nothing."
Looking ahead, I will say that after a couple of days in Poland, I met another resident of Lviv - realtor Yuri Kmit. It was already a "normal" zapadenets, not hiding anti-Russian sentiment.
But he is not inclined to divide Ukraine into black and white: "In recent days, several Donetsk families have asked me to look for apartments in Lviv. This is a professorship, intellectuals. They don't see themselves in the South-East, but want to live in Ukraine ".
"Yes kapets country"
In the morning at the Warsaw bus station Zakodny through one speak surzhik. Ukrainians scary a lot! This is a real working class. Aunts with big-bellied bauls, men with suave mugs. Taxi drivers take care of them and monotone in tolerable Russian: "To Lviv? Tiraspol Taxi". But the Ukrainian people save money, quietly waiting for the flight in five hours. I, who grew up in the Soviet backwater, immediately remembered the morning bus station in the Zauralsky district center of Tselinnoe, where 30 years ago, there were also hard workers waiting for their "PAZika", and flying over them, pissing, pigeons. If it were not for Wi-Fi, then no difference.
I spoke with one Ukrainian. Rather, as I talked: it was enough to get out of the door of the bus station and meet the eyes of the first peasant he asked for a cigarette. I had no cigarettes, but the stranger could not be stopped. In ten minutes, he told me his biography, praised Putin and Yanukovych, and gave a forecast for the future.
A man - a mustache for fifty - also from the Lviv region, regularly goes to Poland to work.
"I used to mow lawns in Warsaw, but now it's hard to find such a good job. Now he is working as a farm clerk in the village, at Pan," the Ukrainian said. "There's no work at all in Ukraine, but all the collective farms were destroyed. In Pskovskaya Do you happen to come from there? From where? From Kaliningrad? This is where? And in Pskov it was good, there are a lot of churches, it is beautiful. "
When asked whether he wanted to simply be part of Poland, Putin took the Crimea, the peasant smirks with his gray mustache: "Nah, I want to live in Ukraine. And I can easily travel to Poland on a work visa. 400 costs hryvnia. You go to the consulate with paper from Mr., for whom you work, and you calmly spank visa. "
Having lit up, the crest practiced in analytics: "Putin has depressed your Crimea, you rejoice, but you do not understand that billionaires rule you. We also ruled billionaires, but we got rid of them. Our Yanukovych fucked up." But on the question of the future of Ukraine without billionaires, throws: "Yes kapets country."
"Merkel is indignant, but she is a doll"
Polyakov quite satisfied that the Ukrainians slave them. At the same Warsaw railway station in Zakhodniy, stickers with the appeal in Russian: "Looking for a job in Poland? Call" are hanging on each pillar. It is in Warsaw, which is three hundred miles from the Ukrainian border, but what is happening in the border areas of Lublin and Rzeszow?
"All low-professional work - repair of roads, apartments, cleaners, car washers are Ukrainians," the master of Polish journalism, the famous Putinophobe Witold Mihailovsky, who took me from the station, tells me. "As Uzbeks in Russia, we have Ukrainians. It's cheap and qualitatively. And the manpower market is inexhaustible. Here is such (smiles) friendship of Slavic peoples ".
79-year-old Witold Mihailovsky is one of the legends of Poland. He is the founder and editor of the magazine with the furious name "Pipeline". In Polish, it sounds ridiculous - "Rurochёnga". In a conversation with each counter and cross Pan Mikhailovsky repeats this patter: "Rurochёngi-gazochyongi, handlers-gazochyongi". But this ridiculous name for ten years as acquired a serious geopolitical connotation. And today, even more so. The editor is asked for comments by all and sundry. As a result, I heard a version of the reasons for the Crimean reunification with Russia from the most knowledgeable Polish expert in "pipe politics". The fault is, it turns out, the South Stream gas pipeline (South Stream), which Putin is currently laying through the Black Sea.
"But everything is good on paper," continues Witold, smoking a pipe with a monogram of a Ukrainian trident. "In practice, no. Tectonic analysis showed that a rock rose on the way of South Stream. It is impossible to break through it up to a kilometer! It's impossible to translate South Stream to the north of the sea, where the Ukrainian shelf is located. That is, Crimea. This is a quiet operation, behind which German and American concerns stand. Merkel is indignant, but she is a little doll. "
Mikhailovski, feeding in his garden of red fish in the pond, puts the last trump card: "25 years ago geological exploration was done in the northern part of the Black Sea. And it turned out that there is a lot of oil and gas in the area of ​​the Ukrainian shelf. Very a lot! This is closer to the South-East of Ukraine. Therefore, the South-East will become Russian. Human rights? Nonsense. "
In tobacco smoke, you see the contented face of Mr. Witold. And it is not clear what he is more satisfied with - his version or Putin's grip. I decided to ask about the Polish political elite. In response, he heard: "Tusk - g ... but!"
"We can not buy gas from Russia and for that we don't need a shale revolution," Mikhailovsky explains. "There is a very interesting prospect in Poland — the use of geothermal sources. But the Poles do not have the strength of mind. We are degenerate."
"We went under the Americans"
For a few days, other Polish citizens also told me about the lack of strength of spirit among the Poles. For example, the professor of the Jagiellonian University from Krakow, Hanna Kowalska-Stus.
"For me, as for the Polish people, it's a shame that if earlier Poland implemented the policy of the USSR, today it implements the policy of the United States. Again, this is not our national policy!" - exclaims the professor. In her opinion, "Putin has an imperial idea, and it is worthy of respect."
"But Poland is not able to exist independently, we do not have our own idea, our own Polish civilization way," echoes its professor Anna Razhna from the Jagiellonian University. "Our politicians are slaves, American slaves."
"I felt uneasy when scientists from Slovakia (at the congress of Polish geopolitics) began to read us reports in English!" Continues Mrs. Kowalska-Stus. - This is when there are even fewer differences in Polish and Slovak than in Russian and Ukrainian! What are we doing with our Slavic world? Half of Eastern Europe are Slavs, but instead of uniting in the framework of the idea of ​​the Slavic world, we went under the Americans. "
The paralysis of Polish thought was also confirmed by the well-known Polish blogger, creator of Television People's, Eugeniusz Sendetsky. Pan is a doctor by profession, and Internet TV is a hobby whose level of popularity is characterized, for example, by such an example. A video with teenagers playing football in front of the church, around which several hundred Polish Catholics pray, scored 1,5 million views.
So, according to Sendetsky, the opinion in the Polish blogosphere, at least a little different from the general European propaganda formula - "Putin is a new Hitler" - is immediately declared seditious, and such a blogger is called a "Russian agent".
"Pravoseki - those-rro-ri-areas!"
At the congress, I remember most of all the master of the University of Wroclaw, Samuel Musa. Musa (everyone called him that, considering that this name) is a Syrian, but he has been living in Poland for ten years. So, he for Russia, it seems, will stuff his face. For example, when one of the Polish young political politicians tried to defend the Ukrainian "pravosekov", Musa stood up and pushed a speech, simple as Damascus steel:
"What kind of opposition is this ?! These are the terrorists who were prepared by the Americans. Those-rr-ri-tsy! We did exactly the same thing in Syria. The United States nurtured such" oppositionists "with the same national slogans. But we know that they were all killers. "
How Putin will react to the results of the referendum in the east of Ukraine?
In the coffee breaks, Musa wedged into groups of doctors and masters who criticized Russia without any European sentiments and defended Russia. I will cite such a dialogue. One Polish political scientist, in my opinion, of the University of Rzeszow, painted to his colleagues: "What is Russia? Stop in any village - there is also a 19 century!"
The author of these lines just wanted to ask whether the pan was in eyewear and a mixed-fabric suit in the Russian outback, as Musa issued:
"Listen, I was in France, the outskirts of Marseilles is a 18 century!"