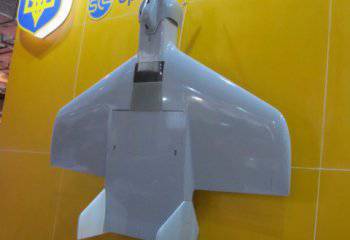 According to the
TSAMTO
, with reference to the acting director general of the Ukroboronprom concern Yury Tereshchenko, a practical demonstration of Ukrainian developments in the field of unmanned vehicles took place at the Borodianka airport in the Kiev region with the participation of the Spetstekhnoexport HCVP, the specialized company UAVia, and the State Design Experimental Design Bureau
aviation
and general purpose ", Institute of armaments and military equipment of the Armed Forces, Zhytomyr Military Institute. S. Koroleva and others.
The developers showed the P-100 multipurpose unmanned aircraft complex (LHC), carrying out reconnaissance missions with real-time data transmission. Specialists of the company UAVia took part in the development of this device. Also at the event was a presentation of the capabilities of Ukrainian unmanned multirotors, which, according to Tereshchenko, can significantly enhance the intelligence capabilities of the security forces of Ukraine.
In addition, double and triple hang-gliders were presented for special operations. It is worth noting that this type of lethal apparatus can also be equipped with unmanned systems, allowing to carry out shock and reconnaissance missions.
"This is only a part of the developments that Ukrainian enterprises can provide. At this stage it is important to integrate the accumulated potential into reliable production samples. The need for such equipment, given the challenges to the security of the country, is extremely high, "said Tereshchenko.