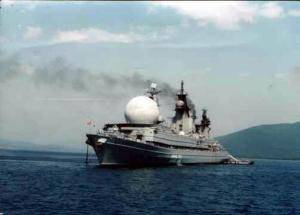 According to the
flot.com
, with a link to
broker
government procurement, Rosatom Corporation announced the start of an open tender for the disposal of a large nuclear intelligence ship "Ural" project 1941. The winner of the tender will be announced 9 July 2014 of the year. He will have to complete all the planned utilization works before 30 November 2016. The initial value of the contract is 691 million rubles. Payments will be made in three stages: 200 million in 2014 year, 150 million in 2015 year and 341 million in 2016 year.
The large reconnaissance ship "Ural" carries the title of the largest reconnaissance ship on the planet, as well as the largest surface ship in the USSR and Russia equipped with a nuclear power plant. The ship, which made only one battle trip, was written off in 2001 year.
It is worth noting that earlier the Russian Defense Ministry announced a tender for the sale of ships and ships of the Northern and Baltic fleets, which are not intended for direct use.