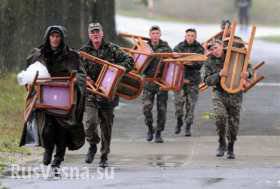 According to the
"Russian Spring"
, over the past few days, 102 has deserted military units from military units of the Ukrainian army.
The official website of the Zhytomyr City Council reports that the acting as commander of the A1494 military unit, Colonel R.S. Volkov, asked the city authorities to publish lists of soldiers called up to the Armed Forces of Ukraine during partial mobilization for a special period who left the location of the military unit without permission.
"In order to demonstrate their shameful act, please publish these lists in local and regional print media, inform the authorities at their place of residence," he wrote.
It is worth noting that this is not the only case in the region. Earlier, the site of the Zhytomyr City Hall published a list of 102 soldiers from the A3091 military unit in Berdichev and A0409 in Novograd-Volynsky, who also deserted from the duty station.
It is worth noting that the unauthorized abandonment of parts threatens to be mobilized by five years of imprisonment. However, this does not stop deserters.