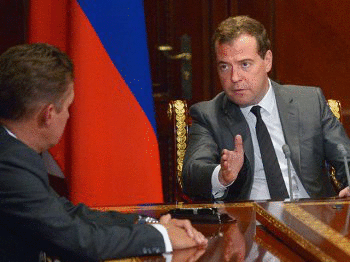 According to the news agency
"Vesti"
, Russian Prime Minister Dmitry Medvedev said at a meeting with the head of Gazprom Alexei Miller and the head of the Ministry of Energy Alexander Novak that it is necessary to transfer Ukraine to an advance payment system for gas from 13 in May.
"It's time to stop babysitting, notify them, and from tomorrow, enter a prepayment," Medvedev said. "I think that all possible ways to resolve this situation in a different way were taken by Gazprom."
Mevedev also noted that the European Commission should send "necessary signals" to Kiev to pay off debts for gas, since endless discussions are useless. "Let them discuss with anyone there. I mean our partners from the European Commission. But for us this subject is absolutely understandable, for us it is not a reason for discussion - there is a debt, we must pay for this debt, "he said.
As noted by
newsru.com
In turn, the head of Gazprom, Alexey Miller, announced that Gazprom was ready to issue a preliminary bill to Naftogaz to pay for gas in June.
"In the event that Ukraine does not pay for the June deliveries, then Gazprom, before 10, o'clock in the morning, 3 June, notifies the Ukrainian side about how much gas will be supplied to Ukraine in accordance with the prepayment. If the prepayment is not followed, then, accordingly, zero cubes will be delivered to Ukraine in June, "Miller emphasized.
In addition, the head of "Gazprom" reported that 7 May came the time of payment for gas for April, but Ukraine ignored it. Currently, its debt is 3 billion 508 million dollars.