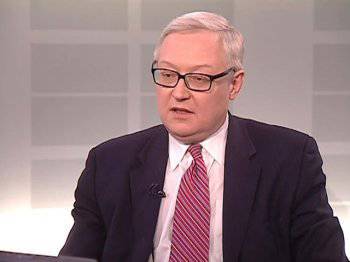 According to the news agency
"Vesti"
, Deputy Foreign Minister Sergei Ryabkov said that a final agreement on the Iranian nuclear program would be worked out at the negotiations between the G-6 and Iran in Vienna. Within four days it is planned to draw up all the main paragraphs of the document.
According to Ryabkov, a good result would be the coordination of a "certain component part of the future document, even with brackets, disagreements or fragments". The deputy minister noted that at present Russia is satisfied with the work of experts on Iranian topics.
"Experts perform very hard and laborious, not sensational, but absolutely necessary work, without which overall success is not possible. We are pleased with how the experts worked in New York. This adds confidence that there will be no trampling on the spot, much less a rollback should occur, "he said.
As the agency notes, to date, nine semantic parts have been identified, which should be the basis of a comprehensive agreement. These include the parameters of the uranium enrichment program, the functioning of a research reactor in Arak, verification of the nuclear program by IAEA experts, international cooperation in the nuclear issue, aspects of a possible military component, UN Security Council sanctions and unilateral sanctions.
It is noted that this project is based on the Geneva agreement of November 2013, which obliged Iran to stop enriching uranium over 5%, and also to get rid of 50% highly enriched uranium. The parties plan to arrive at a final version of the document by July 20.