The Russian Foreign Ministry commented on the EU decision on the situation in Ukraine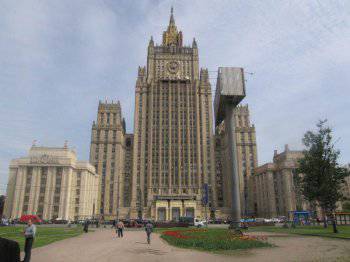 The site
Russian Foreign Ministry
The comment of the Information and Press Department appeared in connection with the decisions of the EU Council on the situation in Ukraine adopted by 12 in May. In particular, it is noted that "lengthy statements", which are not tied to the real situation in the territory of the country, cause "deep bewilderment".
"It's time for Brussels to stop seeing in large part of the Ukrainian people, not accepting the Kiev authorities," pro-Russian separatists "and understand that without recognizing the inner nature of the deep Ukrainian conflict, it will not be possible to resolve it. The European Union should respect the results of the referendum held by residents of the Donetsk and Luhansk regions and help to ensure that the will of the people is implemented in a dialogue between representatives of Kiev and the South-East of Ukraine, "the agency said.
In addition, the ministry reminded the European Union that since the beginning of May a whole series of events had taken place on the territory of Ukraine, as a result of which civilians were killed.
"How can such actions be called a" moderate approach ", even directly encourage them and welcome against this background the allegedly" proposals "coming from Kiev to foster a national dialogue?" The message reads.
There is also a "vague reaction" to the proposals of the OSCE Chairman D. Burkhalter on urgent measures to de-escalate and stabilize the situation on the territory of Ukraine through negotiations between the regions and Kiev.
"Not wanting to recognize the realities that have emerged in Ukraine as a result of events resulting from an anti-constitutional coup in Kiev, and continuing the vicious anti-Russian sanctions logic, the EU undermines its credibility as a partner and questions the objective of helping to resolve the internal Ukrainian conflict" - said the agency.