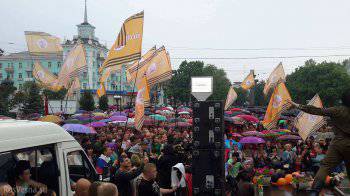 As the
polemika.com.ua
, the people's mayor of Slavyansk Vyacheslav Ponomarev said that the Donetsk People's Republic is going to consider the issue of joining the Customs Union.
"The main direction of our activity after the referendum is close friendly relations with the Russian Federation and joining the Customs Union. We have already identified our priorities, and for no one
news
will not, "he said.
In addition, according to the people's governor of the Donetsk region, Pavel Gubarev, the immediate plans of the Donetsk people's republic envisage unification with the Luhansk region.
"For us, the referendum is all, this is independence, the creation of a new subject - the Donetsk People's Republic. For us, a new subjectivity is only the first step towards the creation of our big Novorossia, the former southeastern Ukraine, "he said in the first interview after being released from the SBU jail.
"Russian Spring"
reports that on the evening of May 12 a festive rally was held in Lugansk following a referendum, which was attended by MP Oleg Tsarev, who announced the "birth of a new state - Lugansk People's Republic".
Earlier, the press secretary of the army of the south-east Vasily Nikitin reported that the Lugansk People's Republic intends to submit a request for international recognition to the United Nations. In addition, he noted that he does not exclude the possibility of a referendum on joining Russia.
"Particularly important issues should be discussed by all the people of the Luhansk People's Republic. If the decision to hold a referendum on joining Russia is, then, accordingly, the will of the people will be put into action, "he said.
Also
"Russian Spring"
notes that, according to the deputy of the City Council of Happiness Andrey Pukhov, now there are no Ukrainian troops near Lugansk.
"In the morning there was information that Novoaydar was completely blocked, I specifically went there, but I didn't find any equipment or military. Then I went to Lysychansk and Severodonetsk - nothing! No BMP on the roads! In Happiness itself, everything is still calm too, "said Pukhov.