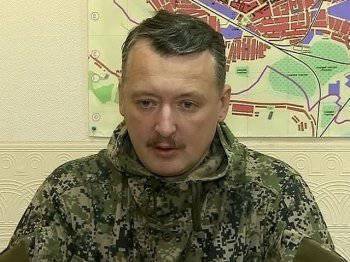 According to the
INTERFAX.RU
, on the page of the "people's governor" of Donetsk region Pavel Gubarev, an order appeared on the social network Facebook, allegedly signed by the leader of the Lugansk militia Igor Strelkov. In it, he declared himself commander of the armed forces of the Donetsk Republic and declared that a counter-terrorist operation regime was being introduced on its territory in order to protect the population from external aggression.
However, as noted
"Reedus"
, the distributed document is a fake, in the creation of which the journalist Oleg Kashin participated and the recently liberated "people's governor" of Donbass Pavel Gubarev. The fake order was published by many Russian media, the majority of Ukrainian media, as well as Western agencies, including Reuters.
Strelkov himself told via e-mail that this was "another portion of lies". According to him, he never signed the title of "supreme commander in chief," and in addition always signs his own orders and puts a seal on them.
"Russian Spring"
notes that the military correspondent of "KP" Alexander Kots clarified one "important detail." "They showed Strelkov a document. Strelkov did not sign this, although there was a draft of such an order. Only a project, "he said.
According to political analyst Alexander Kazakov, the text of a forged document appeared not only on the Internet, but also on leaflets distributed in settlements in the south-east of Ukraine.
"This kind of stuffing will appear more and more often," he predicted. - In the information war, which is conducted from Kiev, you can feel the transatlantic hand.
The political scientist noted that the technology of such "throw-ins" has been worked out to perfection. First, the false data is published on some secondary resource, then it is published by one of the "respected" Ukrainian publications, for example, UNIAN, Censor.net. After a short and dry message appears in Western agencies.
Moreover, according to Kazakov, even if the fake is revealed, the probability of the publication of a refutation in the Western media is negligible.