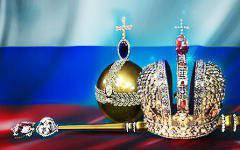 At the request of readers, we continue the cycle of articles devoted to pre-revolutionary stories our country
Today's material is devoted to the state of the economy, science and education in Tsarist Russia on the eve of the First World War. In 1910, an event occurred that can be considered the beginning of the atomic program of pre-revolutionary Russia. IN AND. Vernadsky made a presentation at the Academy of Sciences on the topic "Tasks of the day in the field of radium."
"Now, when humanity enters a new century of radiant — atomic — energy, we, and not others, should know, should find out what the soil of our native country holds in this respect," Vernadsky said.
And what do you think, "royal bureaucrats" spat on a lonely genius, and his insight remained unclaimed? Nothing like this. A geological expedition is sent to search for radioactive deposits and finds uranium, and research in the field of nuclear physics is unfolding rapidly. The Duma in 1913 considers legislative initiatives in the field of studying radioactive deposits of the empire ... These are the days of "lapotnaya" Russia.
Everyone has heard the names of such eminent pre-revolutionary scholars as D.I. Mendeleev, I.P. Pavlov, A.M. Lyapunov and others. The story about their activities and achievements will take whole volumes, but I would like to say now not about them, but to bring a number of facts directly tied to the 1913 year.
In 1913, the factory tests of the "Crab" began - the world's first underwater mine layer M.P. A raid. During the war of 1914-1918 "Crab" was part of the Black Sea
fleet
, went on military campaigns, and, by the way, it was on his mines that the Isa-Reis Turkish gunboat was blown up.
A new page in history opened in 1913
aviation
: The world's first four-engine aircraft took off. Its creator was the Russian designer I.I. Sikorsky.
Another pre-revolutionary engineer, D.P. Grigorovich, in 1913, built the "flying boat" M-1. A direct descendant of M-1 was one of the best seaplanes of the First World War - M-5.
In 1913, gunsmith VG Fedorov began testing an automatic rifle. The development of this idea during the First World War was the famous machine gun Fedorov. By the way, under the direction of Fedorov, V.A. Degtyarev, later became a famous designer.
At the beginning of the 20th century, our country was also on an economic rise. To prove this thesis, let us first turn to the fundamental research of Doctor of Science, Professor V.I. Bovykina "Financial capital in Russia on the eve of the First World War."
Even for the most developed countries of the world, the beginning of the 20th century is still a period of "coal, locomotives and steel"; however, the role of oil is already quite large. Therefore, the figures characterizing the situation in these areas are fundamental. So, coal mining: 1909 year - 23,3659 million tons, 1913 year - 31,24 million tons, growth - 33,7%. Production of petroleum products: 1909 year - 6,3079 million tons, 1913 year - 6,6184 million tons, growth - 4,9%. Iron smelting: 1909 year - 2,8714 million tons, 1913 year - 4,635 million tons, growth - 61,4%. Steel production: 1909 year - 3,1322 million tons, 1913 year - 4,918 million tons, growth - 57%. Rolled steel production: 1909 year - 2,6679 million tons, 1913 year - 4,0386 million tons, growth - 51,4%.
Locomotive production: 1909 year - 525 units, 1913 year - 654 units, growth - 24,6%. Wagon production: 1909 year - 6389 units, 1913 year - 20 492 units, growth - 220,7%.
In general, statistics show that in the period 1909-1913. significantly increased the value of industry funds. Buildings: 1909 year - 1,656 billion rubles, 1913 year - 2,185 billion rubles, growth - 31,9%. Equipment: 1909 year - 1,385 billion rubles, 1913 year - 1,785 billion rubles, growth - 28,9%.
As for the situation in agriculture, the total harvest of wheat, rye, barley, oats, corn, millet, buckwheat, peas, lentils, spelled, beans amounted to 1909 in the year 79 million tons, in 1913 year - 89,8 million tons, growth - 13,7 % And in the period 1905-1914. Russia accounted for 20,4% of world wheat harvest, 51,5% rye, 31,3% barley, 23,8% oat.
But maybe, against this background, the export of the above-mentioned crops has also sharply increased, as a result of which domestic consumption has decreased? Well, let's check the old thesis "we will not finish, but we will take out" and see the export figures. 1909 year - 12,2 million tons, 1913 year –10,4 million tons. Exports declined.
In addition, Russia accounted for 10,1% of world production of beet and cane sugar. Absolute numbers look like this. Granulated sugar production: 1909 year - 1,0367 million tons, 1913 year - 1,106 million tons, growth - 6,7%. Refined sugar: 1909 year - 505 900 tons, 1913 year - 942 900 tons, growth - 86,4%.
To characterize the dynamics of the value of agricultural funds, I will give the following figures. Commercial buildings: 1909 year - 3,242 billion rubles, 1913 year - 3,482 billion rubles, growth - 7,4%. Equipment and inventory: 1909 year - 2,118 billion rubles, 1913 year - 2,498 billion rubles, growth - 17,9%. Cattle: 1909 year - 6,941 billion rubles, 1913 year - 7,109 billion rubles, growth - 2,4%.
Important information on the situation in pre-revolutionary Russia can be found in A.E. Snesareva. His testimony is all the more valuable when you consider that he is the enemy of "rotten tsarism." This can be judged by the facts of his biography. Tsar's Major General in October 1917 becomes Lieutenant-General, when the Bolsheviks led the North Caucasus Military District, organizes the defense of Tsaritsyn, occupies the post of chief of the Academy of the General Staff of the Red Army, becomes a Hero of Labor. Of course, the period of repression 1930-x does not bypass him, but the sentence of execution is replaced by a term in the camp. However, Snesarev is released early, and this once again shows that he is not a stranger to the Soviet government ...
So, Snesarev in the book "Military Geography of Russia" operates with the following data relating to the beginning of the XX century. The amount of bread and potatoes harvested per person (in poods): USA - 79, Russia - 47,5, Germany - 35, France - 39. Number of horses (in millions): European Russia - 20,751, USA - 19,946, Germany - 4,205, Great Britain - 2,093, France - 3,647. Already by these figures the price is visible to conventional stamps about "starving" peasants and how they "did not have enough" horses in the farm. Here it is worth adding the data of a major Western expert, Professor Paul Gregory from his book Economic Growth of the Russian Empire (late XIX - early XX century). New calculations and estimates. He noted that between 1885-1889 and 1897-1901. the cost of grain left by peasants for their own consumption increased at constant prices by 51%. At this time, the rural population increased only by 17%.
Of course, in the history of many countries there are many examples when economic growth was replaced by stagnation and even decline. Russia is no exception, and this gives a wide scope for a tendentious selection of facts. It is always possible to pull the numbers of the crisis period, or, on the contrary, to use the statistics relating to several of the most successful years. In this sense, it would be useful to take the period 1887-1913, which was not at all simple. There is a strong crop failure 1891-92, and the global economic crisis 1900-1903, and the expensive Russian-Japanese war, and mass strikes, and large-scale fighting during the "revolution 1905-07," and rampant terrorism.
So, as the doctor of historical sciences L.I. Borodkin in the article "Pre-Revolutionary Industrialization and Its Interpretations", in 1887-1913. The average industrial growth rate was 6,65%. This is an outstanding result, but critics of the "old regime" argue that Russia during the reign of Nicholas II increasingly lagged behind the top four most developed countries in the world. They point out that a direct comparison of growth rates between economies of different scales is incorrect. Roughly speaking, let the size of one economy be 1000 conventional units, and the other - 100, while the growth - 1 and 5%, respectively. As you can see, 1% in absolute terms is equal to 10 units, and 5% in the second case - only 5 units.
Is this model correct for our country? To answer this question, we will use the book "Russia and the World Business: Affairs and Fates. Alfred Nobel, Adolf Rotshtein, Herman Spitzer, Rudolf Diesel, "under the Society. ed. IN AND. Bovykina and the statistical-documentary reference book "Russia 1913 Year", prepared in Russian Academy of Sciences by the Institute of Russian History.
Indeed, on the eve of World War I, Russia produced industrial products 2,6 times less than the UK, 3 times less than Germany, and 6,7 times less than the United States. But as in 1913, five countries were distributed by shares in global industrial production: USA - 35,8%, Germany - 15,7%, United Kingdom –14%, France - 6,4%, Russia - 5,3%. And here, against the background of the first three, domestic figures look modest. But is it true that Russia is increasingly lagging behind the world leaders? Not true. Over the period 1885-1913. Russia's backlog from Britain has decreased threefold, from Germany - by a quarter. In absolute gross figures of industrial production, Russia almost equaled France.
Not surprisingly, Russia's share in global industrial production, which was in 1881-1885. 3,4% reached 1913% in 5,3 year. In fairness it must be admitted that it was not possible to close the gap with the Americans. In 1896-90 The US share was 30,1%, while Russia had 5%, that is, 25,5% less, and in 1913, the backlog increased to 30,5%. However, this reproach to "tsarism" applies to the other three countries of the "big five". In 1896-1900 the UK share was 19,5% versus 30,1% among Americans, and in 1913, 14 and 35,8%, respectively. The gap widened from 10,6 to 21,8%. For Germany, similar figures look like this: 16,6% versus 30,1%; 15,7 and 35,8%. Backlog increased from 13,5 to 20,1%. And finally, France: 7,1% vs. 30,1%; 6,4 and 35,8%. Backlog from the USA was 23%, and in 1913 it reached 29,4%.
Despite all these figures, skeptics do not give up, trying to gain a foothold on the next line of defense. Acknowledging the impressive successes of Tsarist Russia, they say that these successes have been achieved mainly due to colossal external borrowings. Well, let's open the directory "Russia 1913 Year".
So, in 1913, our country paid 183 a million rubles for foreign debts. Let's compare with the total income of the national budget 1913 of the year: after all, debts are paid out of revenues. Budget revenues amounted to 3,4312 billion rubles that year. This means that for foreign payments, it took only 5,33% of budget revenues. Well, do you see here "bondage", "weak financial system" and similar signs of "decaying tsarism"?
This may be objected to in the following way: or maybe Russia took on huge loans, of which it paid off previous loans, and its own revenues were small.
Check out this version. Take a few items of budget revenues 1913 year, of which it is known that they were formed at the expense of their own economy. Account in millions of rubles.
So, direct taxes - 272,5; indirect taxes - 708,1; duties - 231,2; government regalia - 1024,9; income from state assets and capital - 1043,7. I repeat that these are not all revenue items, but in general they will give 3,2804 a billion rubles. Let me remind you that foreign payments in that year amounted to 183 million rubles, that is, 5,58% of the main revenues of the Russian budget. What to say, only state-owned railways brought 1913 813,6 million rubles to XNUMX budget of the year! Whatever one may say, no matter how one goes by one's ears, and there is no trace of foreign bondholders.
Now let us turn to such a parameter as productive investments in Russian securities (joint-stock entrepreneurship, railway business, urban economy, private mortgage loan). We will once again use the work of Bovykin "Financial Capital in Russia on the Eve of the First World War".
Domestic productive investment in Russian securities for the period 1900-1908. amounted to 1,149 billion rubles, foreign investments - 222 million rubles, and all - 1,371 billion. Accordingly, in the period 1908-1913. domestic productive investment increased to 3,005 billion rubles, and foreign - to 964 million rubles.
Those who speak of Russia's dependence on foreign capital can emphasize that the share of "foreign" money in capital investments has increased. That's right: in 1900-1908. it was 16,2%, and in 1908-1913. increased to 24,4%. But note that domestic investments in 1908-1913. 2,2 even exceeded the total volume of investments (domestic plus foreign) in the previous period, that is, in 1900-1908. Is this not proof of a marked increase in Russian capital itself?
We now turn to the coverage of some social aspects. Everyone heard the standard discourse on the topic "how the accursed tsarist government did not allow the poor" cook children to learn ". From endless repetition, this stamp was perceived as a self-evident fact. Let us turn to the work of the Center for Sociological Research at Moscow University, which conducted a comparative analysis of the social "portrait" of a student at Moscow State University 2004 and 1904. It turned out that in 1904, 19% of the students at this prestigious educational institution came from a village (village). Of course, it can be said that these are children of village landowners, however, we will take into account that 20% of Moscow University students came from families with lower than average property status, and 67% belonged to the middle strata. At the same time, only 26% of students had fathers with higher education (6% had mothers with higher education). This shows that a significant part of the students come from poor and poor, very simple families.
But if this was the case in one of the best universities of the empire, then it is obvious that the estate partitions under Nicholas II were a thing of the past. Until now, even among people skeptical of Bolshevism, it is considered to be indisputable achievements of Soviet power in the field of education. At the same time, it is tacitly assumed that education in Tsarist Russia was at an extremely low level. Let's look at this issue, based on the work of major specialists - A.E. Ivanova ("Higher School of Russia in the late XIX - early XX century") and D.L. Saprykina ("Educational potential of the Russian Empire").
On the eve of the revolution, the system of education in Russia acquired the following form. The first stage is 3-4, primary education; then another 4 of the year in a gymnasium or a course of higher elementary schools and other relevant vocational schools; the third stage is still 4, a year of complete secondary education, and, finally, higher education institutions. A separate educational sector were educational institutions for adults.
In the 1894 year, that is, at the very beginning of the reign of Nicholas II, the number of students at the gymnasium level was 224 100 people, that is, the 1,9 student per 1000 residents of our country. In 1913, the absolute number of students reached 677 100 people, that is, 4 on 1000. But this is without regard to military schools, private and some departmental educational institutions. By making the appropriate amendment, we get about 800 000 students at the gymnasium level, which gives 4,9 a person on 1000.
For comparison, take France of the same era. True, the data is not for 1913, but for 1911 a year, but these are quite comparable things. So, "high school students" in France were 141 700 people, or 3,6 on 1000. As we see, "Lapotnaya Russia" looks advantageous even against the background of one of the most developed countries of all times and peoples.
We now turn to university students. In the late XIX - early XX centuries. absolute figures of Russia and France were about the same, but relative we were far behind. If in 1899-1903 we had only 10 students on 000 3,5 residents, in France we had 9, in Germany we had 8, in Great Britain we had 6. However, already in 1911-1914. the situation has changed dramatically: Russia - 8, Great Britain - 8, Germany - 11, France - 12. In other words, our country has sharply reduced the backlog from Germany and France, and has even caught up with Great Britain. In absolute terms, the picture looks like this: the number of university students in Germany in 1911 was 71 600, and in Russia - 145 100.
The explosive progress of the national education system is obvious, and it is especially vividly seen with concrete examples. In the 1897 / 98 school year, 3700 students were trained at St. Petersburg University, in 1913 / 14 - already 7442; at Moscow University - 4782 and 9892, respectively; in Kharkov - 1631 and 3216; in Kazan - 938 and 2027; in Novorossiysk (Odessa) - 693 and 2058, in Kiev - 2799 and 4919.
During the time of Nicholas II, serious attention was paid to the training of engineering personnel. Impressive results were also achieved in this direction. So, at the Technological Institute of St. Petersburg, 1897 was trained in 98 / 841 for the year, and in 1913 / 14 - 2276; Kharkov - 644 and 1494, respectively. Moscow Technical School, despite the name, belonged to the institutes, and here the data are: 718 and 2666. Polytechnic institutes: Kiev - 360 and 2033; Riga - 1347 and 2084; Warsaw - 270 and 974. But a summary of the students of agricultural higher educational institutions. In 1897 / 98, there were 1347 students in them, and in 1913 / 14 - 3307.
The rapidly developing economy also demanded specialists in the fields of finance, banking, commerce and the like. The education system has responded to these requests, which is well illustrated by the following statistics: in six years, from 1908 to 1914, the number of students in the relevant specialties increased 2,76 times. For example, 1907 students studied at the Moscow Commercial Institute in the 08 / 1846 school year, and 1913 in the 14 / 3470; in Kiev in 1908 / 09 year - 991 and 4028 in 1913 / 14 year.
We now turn to art: after all, this is an important characteristic of the state of culture. In 1913, S.V. Rachmaninov finishes the world-famous musical poem "The Bells", A.N. Scriabin creates his great Sonata No. 9, and I.F. Stravinsky - ballet "Spring sacred", whose music has become classical. At this time, the artists I.Е. Repin, F.A. Malyavin, A.M. Vasnetsov and many others. Theater thrives: K.S. Stanislavsky, V.I. Nemirovich-Danchenko, E.B. Vakhtangov, V.E. Meyerhold - these are just a few names from a long line of great masters. The beginning of the 20th century is part of a period called the Silver Age of Russian poetry, a whole phenomenon in world culture, whose representatives are deservedly considered classics.
All this was achieved under Nicholas II, but still it is customary to speak of him as an incompetent, incompetent, weak-willed king. If this is so, it is not clear how, with such an insignificant monarch, Russia was able to achieve outstanding results, which the facts cited in this article testify irrefutably. The answer is obvious: Nicholas II was slandered by the enemies of our country. Should we, the people of the 21st century, not know what black PR is? ..