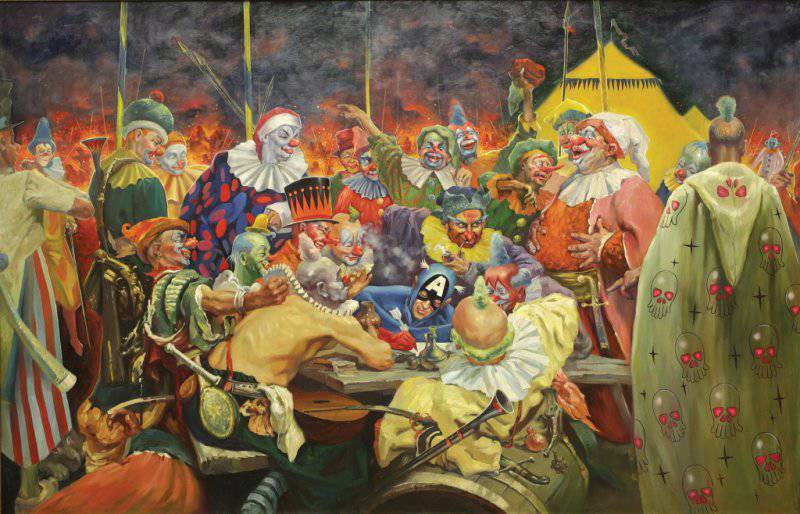 Again these poor Europeans. Do not have time to wake up from the so-called laughter Eurovision Contest, here you are in a borscht also a referendum. And the roof clearly could not stand.
"I believe that voting at the Eurovision Song Contest deserves more confidence and has more weight than what happened yesterday in Donetsk and Lugansk," said British Foreign Secretary William Hague.
Good comparison, yes?
UN Secretary General Ban Ki-moon advocates the implementation of the April agreements in Geneva to resolve the crisis in Ukraine and does not consider it necessary now to involve representatives of the eastern regions of the country in the new Geneva meeting.
Another one with a spring aggravation, not wishing to see what is happening in the south-east of Ukraine with at least one eye.
The United States does not recognize the results of the referendum in the Donetsk and Lugansk regions of Ukraine, said State Department spokeswoman Jen Psaki.
"We do not recognize the illegal referendum held in some parts of Donetsk and Lugansk. It did not comply with Ukrainian legislation," said Psaki. According to her, the United States doubts the "methodology" of the referendum and pay attention to possible violations.
Psaki also said that Russia could "do much more" to support Ukraine. She mentioned the statements of Russian President Vladimir Putin, who last week spoke about the expediency of postponing referendums. "He (Putin) made useful statements, but there are still many steps that Russia can take," said psaki.
Of course, the seizure of power in Kiev and all other Ukrainian legislation is fully consistent. Only one question: what? Well, yes, with US policy, too, everything is clear, there are no glimpses and clarifications.
Interestingly, what steps can Russia take to help Ukraine? I think that we are talking about different steps. From our and shtatovskoy points of view. But the fact that Russia will undertake something-do not drive to the grandmother.
But even in Europe, with a donkey stubbornness not wanting to admit and notice what is happening, more and more forces that are not noticed in the love of Russia are beginning to vote.
The largest German television company ZDF, which covered the referendum, makes claims to the organization, but still states: in fact, the polling stations were full, and the mood was clear.
Die Welt, the mouthpiece of the German conservatives, can never be suspected of a liberal approach. "No one knows exactly how many people actually participated in the referendum on Sunday. But there were no doubt many people. And this fact can no longer be ignored. Even if we try to be restrained in our assessments, we must conclude that there is a critical mass of people in the Donetsk and Lugansk regions who do not want to live as part of Ukraine anymore. "
Le Figaro: "The very fact of holding a referendum indicates a complete loss of control over the eastern regions by the Kiev government. Even with no legal authority, the Sunday poll is far from being considered politically insignificant. "
And this is what our obvious non-friends say. Bardak, however. But the fact that European promise begins to change from rabid to thoughtful and cautiously objective, cannot but serve as a good signal. Better late than never.