According to the resource
NEWSru.co.il
, About half a year ago, the Iranian command issued a statement stating that they were able to create an exact copy of the RQ-170 reconnaissance aircraft. Moreover, this sample
aviation
technology was even demonstrated, along with other UAVs of "domestic production", the head of the Islamic Republic, Ayatollah Ali Khamenei.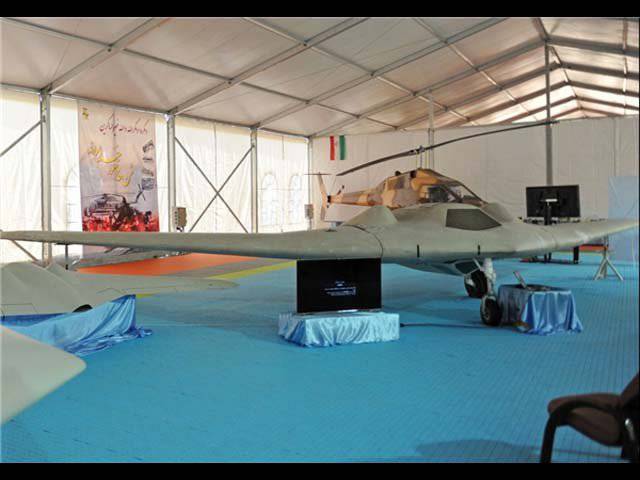 Now Iranian journalists are reporting that Tehran now has its own unmanned stealth planes designed for reconnaissance missions, as well as attacking enemy ships.
To avoid any doubts, for clarity in the showroom, two "drone" vehicles were exhibited: the American RQ-2011 intercepted by the Iranians at the end of 170 and its "exact copy", which was created by Iranian experts.
Also in the hall of the IRGC were shown UAV "Shahed-129" and "Shahed-125", which were also manufactured in Iran. According to the military, airplanes are capable of being in the air up to 24 hours and during this time fly up to two thousand kilometers. Other exhibits of Iranian production presented at the exhibition are anti-missile defense systems, radar systems, anti-ship missiles.
Local media claim that the Iranian military plans to use copies of the RQ-170 aircraft against US ships found in the Persian Gulf. And if the US RQ-170 is only a reconnaissance aircraft, then its Iranian counterpart can also act as a bomber UAV.
As it became known, the US-owned UAV was lost in December 2011, about 20 kilometers from the Afghan-Iranian border. Soon, Iran received reports that they were able to understand the design and make a copy of the RQ-170. The first to make this statement was General Amir-Ali Hadjizade.
Meanwhile, the US command claims that the Iranians could not bring down their stealth aircraft. In response, the Iranian military said they managed to hack the RQ-170 computer system and "force" it to land. However, Western experts believe that Iran does not have the necessary equipment or specialists for the production of UAVs. In addition, only one copy of the RQ-170 costs six million dollars and is not intended for launching missile strikes, so its use as a suicide bomber does not make sense.
Recall that earlier Iran had already reported on its outstanding success in the implementation of projects related to the production of domestic unmanned aircraft. According to some statements, the Iranians allegedly even surpassed Russia in this matter and can compete with the United States and Israel. But in fact, according to Western experts, Iranian troops, armed with the latest UAVs, are just a myth that Tehran spreads not so much to intimidate a potential enemy, but to raise the morale of the citizens of the Islamic Republic.