Valery Kapashin, Head of the Federal Directorate for the Safe Storage and Destruction of Chemical Weapons, in an interview
Interfax
reported that Russia destroyed about 80% of its chemical
weapons
. Today, about 8 thousand tons of chemical weapons remain in stock.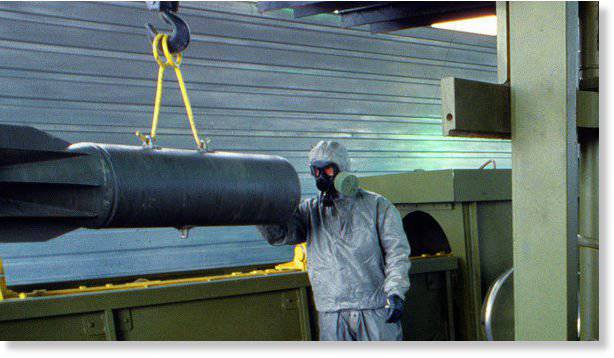 To date, chemical munitions of complex construction are not destroyed. Their main feature is that the development of such ammunition used the so-called anti-handling technology. For their disposal, an additional special line is required, which is planned to be put into operation within the framework of the chemical disarmament program. The lines that are already actively used for the disposal of chemical weapons, created exclusively by Russian technology.
Along with the destruction of chemical weapons located in Russian special warehouses, Russia takes an active part in the destruction of Syrian weapons of this type. To date, the Syrian media have reported the destruction of up to 92% of chemical weapons, including with the help of Russian specialists.
According to Pentagon spokesman John Kirby, the remaining 8% of Syrian chemical weapons have not yet been removed from the country due to the tense situation around the facilities in which it is located.