For the first time in
stories
Russia's Ministry of Defense will hold a large-scale one-time action on the recruitment of contract servicemen. This is reported on
the site of the main military department of Russia
. The action is planned to be held on 17 in May 2014 in Novorossiysk, Tula, Pskov and Ivanovo - cities where airborne units are stationed. It was on the basis of the Airborne Forces that it was decided to hold this action initially. From its results depends on the fate of such events.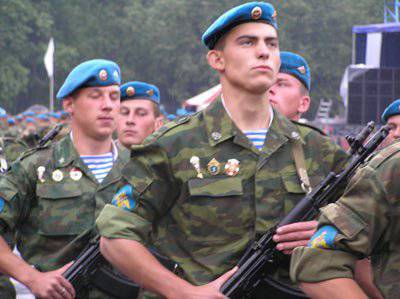 The campaign is planned to be held in such a way that those who wish to conclude a contract with the Ministry of Defense can do it without losing time and visiting numerous instances. For this purpose, it is planned to deploy special mobile selection points for contractual services directly in the central squares of these cities. In these mobile units, applicants will be able to pass not only an interview and professional psychological selection, but also a medical examination as part of the preliminary medical examination.
If the candidate passes the first stage of the action without any problems, he will be invited directly to the territory of the military unit located in the same city where he will be given an examination in physical training. Here the future contractor will be able to get acquainted with life and other conditions of service. Following the results of such an action, a young person can receive a special certificate indicating that he has passed preliminary tests. The certificate will help him to conclude a contract with the Ministry of Defense of the Russian Federation as a priority and go to serve in one of the training centers of the Airborne Forces.
The website of the Ministry of Defense informs that today in Russia 74 is operating special points for the selection of citizens of the Russian Federation for contract service. In less than a couple of months, such points will work in the new subjects of the Russian Federation - in the Republic of Crimea and in Sevastopol.
By May 2014, the number of contract soldiers in the Russian army was about 250 thousand people. By 2017, the number of servicemen under contract, according to plans, should reach 425 thousands of people.