The Kiev junta continues to take action to form a full-fledged "iron curtain" on the border with Russia. Reportedly
ITAR-TASS
, in the Luhansk region on the Ukrainian-Russian border, Kiev is equipped with additional roadblocks. Kiev reports that the fighters who are attracted to perform "combat duty" at roadblocks in the Luhansk region will be engaged in "covering" border control points.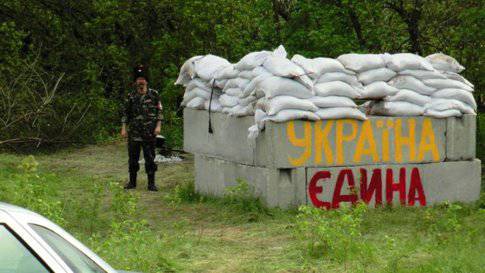 At the new checkpoints, the Ukrainian self-proclaimed authorities are going to use former border guards who are loyal to Kiev. What parameters will determine loyalty? - State Border Service of Ukraine does not specify.
Today, roadblocks are exhibited in the Krasnodon district (Izvarino), in the Stanichno-Lugansk region (Krasnaya Talovka). In the near future, Kiev plans to create checkpoints in the Cretaceous and Belovodsk.
Representatives of the State Border Service of Ukraine associated such measures with the incident at the Izvarino checkpoint 8 in May of this year. Recall that that day an attack was made on the customs post: unknown persons threw "Molotov cocktails" at the checkpoint building, then entered the building and damaged cable and server equipment. Kiev called the attack on the customs post Izvarino "a planned action of pro-Russian separatists." Such conclusions in Kiev were made on the basis of information from a mobile phone found at the scene of the incident, allegedly dropped by one of the attackers.
Now the pass through the border checkpoint Izvarino suspended at the initiative of Ukraine.