Monarchism in the modern consciousness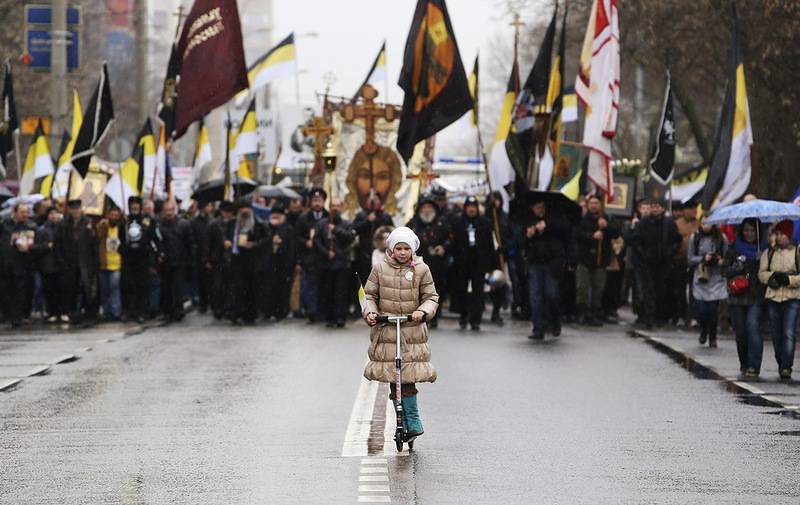 I have always believed that my views are to some extent a hypertrophied extreme, which does not correspond to reality. Methods and ideas are absolutely unacceptable and unrealizable in this particular period of time in which we happened to live. And this morning I woke up and thought: well, why?
Why should I make my views ridiculous? The fact took place: yes, I think so, yes, I am so brought up. And what's more, I believe that many people in their hearts hold similar views, but they are shy, afraid, or for some other reason cannot express them. Or even to even think that, well, yes, here they are, ideas, and they are what they are.
What is our understanding of the so-called? "normal"? On some humane values? Oh, yes ... Throwing my people from one extreme to another more clearly than ever shows that this very people have no core! Think about it! Thousands and thousands of people are so easily taken for granted that they put into their heads only because there was nothing in that head before. This is fertile ground for any seed. The only problem is that the seed that is sown in this head is not at all beneficial. And even more - destructive. I repeat once again: the ridiculous views of my people are caused either by the fact that others simply do not exist, or that they are shy of their existing people.
Why shy? Branded and discredited words "Slav", "people", "nation", "civilization"? Why fear something? Dropout from the general border of humane, cosmopolitan, global values? And where did these values ​​come from?
Indeed, where did they come from, these values? Why are they extremely close to individualized Western and even capitalist thinking? Why is it "considered" that Russian is a shame? Why is the concept of united nations rejected in the bud? After all, what is wrong with the empire paradigm itself? But everything is not so. It (the paradigm) does not fully fit into the system of a unipolar world, which is being built by Western civilization. And, yes, I operate with these concepts, do not hesitate to them. Obviously, how much does not oppose this: we are one civilization; Europe, the USA and their friends are different; Japan, China, Taiwan - the third; Saudi Arabia, Iraq, Iran - the fourth. It is. In order not to warp someone's tender consciousness with the word "civilization", we will use at first another, "mentality". It is so obvious that no one is trying to argue with that, this topic just goes around. They don't speak about her. And this is indisputable.
As it is indisputable, each of these civilizations pulls a global blanket to its side. And since the modern world does not accept the coarse methods of dragging, completely different methods are used. Namely, "perekovka" under him, imposing their views. Where the placement is successful, a generation of spiritual disabled people grows up. People who feel one with their heart, but are raised differently. It is Ukraine. Namely - its eastern part. People who are driven into the head by the concept of national identity "Ukrainian" (which in fact does not exist, it is an artificial superstructure), but in essence they cannot feel it. Well, people do not distinguish between Ukrainians and Russians, that's all. The passport is like this, but the national identity is different. In the same place where the mounting does not work, a power conflict arises. This is Libya. And Syria. Countries that are officially aware of their identity and in every way oppose to becoming different.
Everything that I said to the current line has a very surprising property. If you start telling this to a person, you only need to hear the words "civilization," "people," "nationality," and so on, as his consciousness is immediately turned off. He begins to think that all this is not serious. So it is inherent - just do not think about it. But there is another nuance. If most or most of the life is lived according to quasi-values ​​or in conditions of complete absence of the latter, then it is very difficult to switch to an understanding of the new reality. New, but therefore no less natural for man, the heart and soul of our own, Slavic civilization.
Awareness and acceptance of the concept of "Slav" - this is just the first step. The second is the adoption of a real picture of the world. And here again incredible barriers are set for individual mental work. The concept of "paranoia" comes out. You think that the United States turns the world inside out for yourself - paranoid. Or imbecile. You think that Western values ​​are counterproductive for your life and threaten the survival of the human race (sic!) - paranoid. You think that they are unnatural for your essence - paranoid and also a sociopath to boot. Meanwhile, who would call a more aggressive culture than Western? Here I will be reminded of the Muslim world, and to this I will say - but did not the Arab civilization shoot in response to attempts at its destruction or, to be more precise, sterilization? Have the radical Islamists intensified in response to the imposition of capitalism and individualism as opposed to their peculiar community, accuracy and nationality? And then there can only be one answer: yes, it is a reaction.
And what about our civilization? She is still sleeping. More precisely, she is in a coma. More precisely, in an artificial coma. This hypoglycemic coma is the result of persistent destructive work on identity. Not considered to be a Slav. Anyone - Ukrainian, Belarusian, Russian, but not a Slav. And if the Arab world reacts sharply to the challenges of Westernism, then the Slavic is forcibly put to sleep and is still not self-aware. He is very close to awakening, but he will not wake up at all. From the last forces, cracking at the seams, the paradigm of shame is set on what should be proud of.
Meanwhile, nothing more natural than the commonality of the Slavic peoples for the soul of the Slav exists. But thanks to (in a bad sense) high conscientiousness, which, in this case, works to the detriment, it becomes possible to influence this conscience, to inculcate some sort of small national complexes.
And even more than that, there is no more acceptable state structure than an empire. Yes Yes. Highly taken, is not it? But at the root of the essence, in the very depths of the heart of every Slav, this thought is still sitting. Why, and not just a thought, but a real hope. The same hope sits in my soul.
Now about my country. Take the golden principle of Occam's razor, which consists in not complicating the obvious truths, and project it into reality. Two nations in one country. And even more than that, two irreconcilable civilizations. Individualism, in this case, reflected in the desire to create a small nation-state; and collectivism, seeing nothing better than a large general (within the framework of Russia and Belarus) state. There are no bad and good. There are only opposing, irreconcilable parties, which, for some reason, are unnatural in the territory of my state, someone always tries to knit with white threads. Will it work out? Until recently, it worked. Will such an activity succeed when the world cracks? No, since this is where one of the fault lines passes.
No one wants war. Including I would not want her. Why, only war is therefore called the "last argument of kings", that there is no other method left. All my
history
We were looking for these methods, but we did not find them. One of the warring parties does not want to put up with the existence of the second.
And now we will re-read and think about it again. I wrote the obvious things! But it is customary to complicate things. The reforms and changes that need to be carried out in society are so global, and even magnified by the eyes of fear, that it is much easier to leave everything as it is. People's, universal comfort zone, expressed by each individual individual, is to not talk about it.
And I think so. And I want so. And many want the same. We are many, we are scattered over a vast land, we even doubt the existence of each other, but we exist.
This is just the first part. The second would have to answer the question "what to do?" But the second part will not be. I do not know what to do yet. Act on circumstances. To love your homeland, to feel your identity, affection, duty to your land, to your people, and to love it. And if you live by these principles, the essence of his word someday say. In the people of Donetsk, Dnepropetrovsk, Odessa and the Crimea, with which they put into their heads the fact that they are "titushki", "bydlo", "nonpatriotic" and generally Untermensch, she, essentially, woke up after all. Yes, and so woke up that now this angry bull and do not stop, perhaps. Even it is not necessary to warm up the performances of the memorable Mishiko. It warms up.
Well that's all. All you need to say today. I'm afraid a lot of things will happen in the near future. I'm afraid and getting ready. Oh, how I wish that this did not happen, but otherwise, in any way. Do not find us understanding, and that's it. We wait. Just ... You do not need to hide it and, especially, to be afraid. This is a reason for pride.
With an understanding of reality, there will come an understanding of what barriers we have incarnated into one people. This is pride. Patriotism is not a shame. Patriotism is the same natural component of a healthy organism, as is the ability to think critically. And because ... Because you just need to live differently. After all, it is no longer possible to live with the understanding and the recognition that it has been put to sleep for so long.