Ukrainian President Viktor Yanukovych, who was removed from power, again in Rostov-on-Don talked to journalists and made a number of loud statements regarding the referendum held in the south-east of Ukraine and the actions of the Kiev authorities. He said that people voted in a referendum because they no longer have the strength to endure impunity murders. He called the new Kiev government a junta and fascists and announced that more than 300 people were killed on their conscience.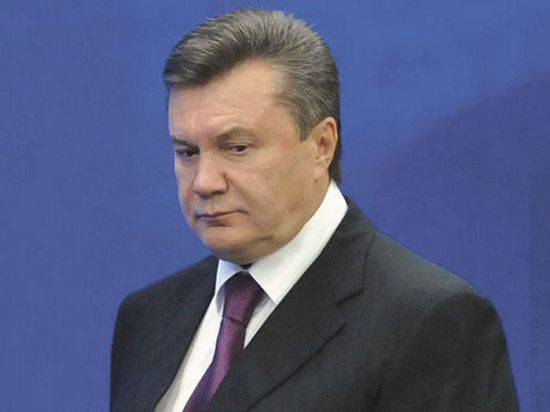 Viktor Yanukovych, who declared his legitimacy as the president of Ukraine, believes that the referendum participants in the south-east of Ukraine voted that way, because the limit of patience of the Ukrainian people has already arrived, RIA "reports
News
".
"Why today the absolute majority of citizens living in the Donbass, came to the referendum and voted for any other form of statehood, just not the one where you can call your citizens with impunity terrorists and start killing them with impunity? Because the limit of patience of the Ukrainian people has already come, "he told reporters in Rostov-on-Don on Monday.
Kiev, conducting a special operation in the south-east of Ukraine against supporters of federalization, should immediately withdraw its mercenaries and troops from there, Yanukovych said. He called the Kiev authorities to stop and called the number of civilian casualties - more than 300 people.
"I can now recognize some of my strategic mistakes, but in my deep conviction never a single power, no career or financial success is worth human life. A bloody junta has already destroyed more than three hundred civilians. And this is someone's fathers, husbands, brothers and sons, and, if not terrible, someone's brides, wives, mothers and even small children. To this day, it is not known how many children actually died, which were illegally mobilized? They must be stopped immediately, "said Yanukovych.
"I urge you - stop ... No one can go unpunished, but now you have to stop the killing, do not aggravate your guilt. Every human life is priceless. You can rebuild the building that you destroyed, but you cannot restore human life! "Said Yanukovych.
"Immediately remove the mercenaries and troops from the territories of Donetsk, Lugansk, Odessa and other regions, stop the violence and terror against your own people. Citizens see what you do with the country every day, "he concluded.
At the same time, Yanukovych believes that the point of no return for the current Kiev authorities has already been passed, "frank fascism and banditry reigns in the country".
"As a result of an unprecedented armed coup, an illegal seizure of power, we lost what we collected daily, one grain at a time, for the sobornost of Ukraine. Today, hatred, fear, despair, outbursts of revenge, outright banditry and fascism reign around ... The point of no return has already been passed by you, "said Yanukovych.
In general, today's Ukraine Viktor Yanukovych compared with Nazi Germany, recalling the tragedy of Odessa.
"I do not agree with those who believe that the topic of fascism in Ukraine is bloated. It seems that the current Ukraine has begun to resemble Germany during Hitler's rule, "he said.
He believes that at that time Germany had been persecuted by dissidents, and now in Ukraine "entire cities are under blockade only because people are defending their point of view, which is different from the ruling regime".
"The whole world is still shaking from the crimes of Nazi Germany, we all remember the crematoriums of Auschwitz and Buchenwald. And today the same is happening in Ukraine. The heart of a normal person shudders at the sight of dead, burned bodies, who have been martyred in Odessa, "said Yanukovych. He added that at the same time "a part of the society, zombie propaganda, could not only accept this murder, but also rejoice in it." "This is ordinary fascism," Yanukovych is convinced.
As for the referendum, according to Yanukovich, Europe and other countries after a large turnout of residents of the south-east of Ukraine should recognize that they are not terrorists at all, that the Kiev authorities are fighting there against their own people.
"The whole world saw how many people came to the referendum! And you can try to ignore its results, but neither you, nor Europe, nor other countries can already admit that there are no terrorists and you are waging war against your own people, "said Yanukovych.