9 May 2014 in Moscow and Sevastopol Defense Minister Sergei Shoigu appeared in the ceremonial uniform, on which the Order of the Holy Apostle Andrew the First-Called with swords could not be overlooked. Order of St. Andrew the First-Called (without swords) for
history
the new Russia were awarded: Academician Dmitry Likhachev (decree No. 1163 from 30.09.1998), designer Mikhail Kalashnikov (decree No. 1102 from 7.10.98), writer Alexander Solzhenitsyn (decree No. 1562 from 11.12.1998), Patriarch of Moscow and All Russia Alexy II (decree No. 203 from 19.02.1999), Dr. Valery Shumakov (Decree No. 1271 of 3.11.2001), journalist and public figure Phase Aliyev (Decree No. 1400 of 11.12.2002), Dr. Boris Petrovsky (Decree No. 603 of 4.06.2003), poet Rasul Gamzatov (Decree No. 1040 of 8.09.2003), singer Lyudmila Zykina (decree No. 765 of 12.06.2004), president of the Union of Musicians Irina Arkhipova (decree number 1 of 2.01.2005), writer Sergey Micha Cove (op.cit №339 from 13.03.2008), writer Granin (op.cit №1864 from 28.12.2008), Mikhail Gorbachyov (op.cit №257 from 2.03.2011). In addition, the order was received by presidents of foreign states: Nursultan Nazarbayev and Heydar Aliyev.
Shoigu became the first person in the history of the new Russia to be awarded the Order of the Holy Apostle Andrew the First-Called with swords. However, official information about the award of the Minister of Defense with this order (the highest award of the Russian Federation), namely, a presidential decree, has not yet been published.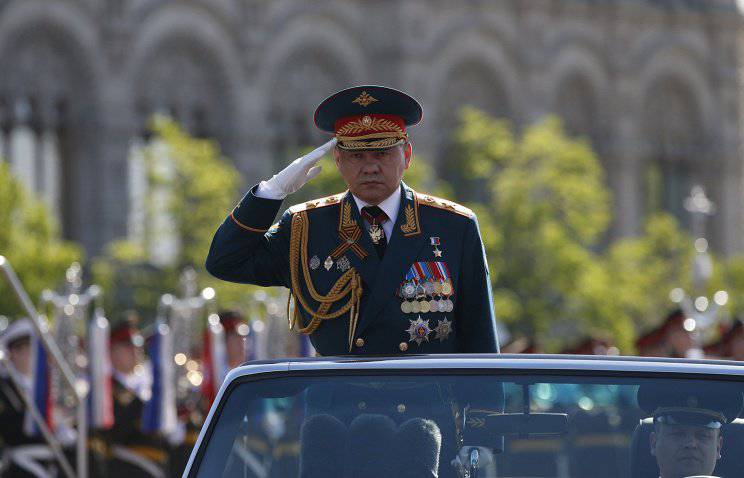 On the
Ministry of Defense website page
On the biography of Sergei Shoigu, there is only a streamlined formulation:
"Awarded numerous orders and medals"
.
The order of the Holy Apostle Andrew the First-Called with swords is awarded to those statesmen who distinguished themselves in hostilities.
In addition to Sergei Shoigu at the May X Parade Victory Parade with new awards, according to
ITAR-TASS
, other senior officials of the Russian Ministry of Defense appeared. In particular, the orders of Alexander Nevsky were visible on the coats of the deputy heads of the war ministry, Nikolai Pankov, Dmitry Bulgakov, Ruslan Tsalikov. With the new award - the Order of Merit for the Fatherland of the III degree with swords and in the new rank (admiral) appeared Commander of the Black Sea Fleet of the Russian Federation Alexander Vitko.