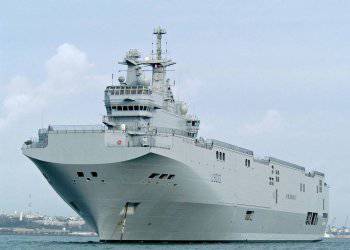 As the
lenta.ru
, 8 in May, a source in the French government announced that France would adhere to the agreed terms of supplying Russia with two Mistral helicopter carriers.
Agence France-Presse notes that Russia will receive the first ship Vladivostok in October 2014, and the second - Sevastopol - will be part of the Black Sea
fleet
in 2015 year.
Information Agency
"Russia's Arms"
notes that the US authorities have expressed concerns about this deal. In particular, Victoria Nuland, US Assistant Secretary of State for European Affairs, said that Washington is still against the supply of Mistral to the Russian Federation.
It is worth noting that, at the request of the Russian side, a number of changes were made to the French draft.
In particular, the composition of the steel alloys for the hull was changed to ice class, which allows the use of ships in northern latitudes. The height of the UDC was also increased, since the internal docks of the ship were converted for mooring large-sized helicopters such as the Ka-52K and Ka-28. The design of the ship provided space to accommodate additional weapons. Instead of the outdated Syracuse satellite communications system, the Russian Mistral will receive the domestic Centaurus system.
Earlier it was also reported that Russia promised to present serious penalties to the French side in case of refusal to build helicopter carriers. Recall that the contract for the supply of "Mistral" was signed in 2011 year. Its amount exceeds 1 billion dollars.