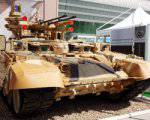 According to the
RBC
, in the next six years, the largest Russian manufacturer
tank
technicians - Uralvagonzavod Corporation - is going to invest 150 billion rubles in production, and this year 50 billion will be invested. This was told by the first deputy general director of the corporation Yuri Bodyyaev.
These funds will be spent on upgrading enterprises that produce special equipment, as well as on the loading of capacities that produce civilian equipment. According to Bodyaev, Uralvagonzavod is conducting a major renovation, new machines are being purchased to fulfill the state defense order. In particular, the reconstruction of the production of diesel engines at the Chelyabinsk Tractor Plant. For Nizhny Novgorod "Petrel" planned development work, including the development of a tank project "Armat".
According to the Deputy General Director of the Corporation, Aleksey Zharich, funds for the modernization of capacities are invested in the framework of the Federal Target Program "Development of the Defense Industry Complex of the Russian Federation before 2020." This program provides 60% investment from the corporation's own funds and 40% from public funds. Earlier, Deputy Prime Minister Dmitry Rogozin noted that the total volume of the federal target program will be approximately 3 trillion rubles.
It is worth noting that the federal budget of the Russian Federation provides for expenditures on national defense in 2014-2016. in the amount of 9.9 trillion rubles.
The structure of the state corporation "Uralvagonzavod" includes more than 20 enterprises, design bureaus and research institutes that produce military equipment and road-building machines. In addition, the company owns more than 45% of the Russian freight wagon market.