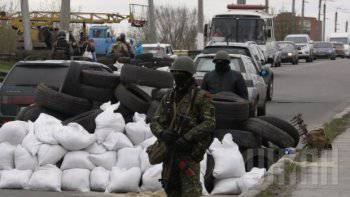 As the
RIA News"
In the morning of May 12, the Ukrainian army began shelling the city of Slavyansk from artillery. Tears of artillery ammunition can be heard on the outskirts of the city near the checkpoint in the direction of the village of Andreyevka.
At the moment, there is no connection with the roadblock, as there are serious problems with mobile communications in the city.
It is worth recalling that the special operation against supporters of federalization entered the active phase on May 2. Currently, near the city of Slavyansk in the Donetsk region are units of Ukrainian security forces controlled by Kiev. During the attacks on the city have already been used
aviation
and armored vehicles.