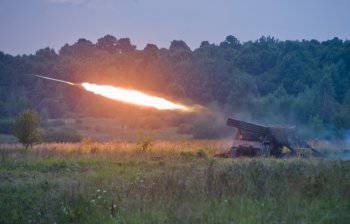 On May 8, Vladimir Putin conducted a planned training on command and control of the Armed Forces of the Russian Federation, in the framework of which the actions of individual formations and military units of the missile forces, artillery, air defense and
aviation
to destroy ground groups and repulse massive enemy missile and air strikes.
According to RIA
"News"
, during the training, strategic submarines of the Pacific and Northern Fleets made two ballistic missile launches. "As part of the training, missile submarine strategic cruisers of the North
fleet
Tula and the Pacific Fleet Podolsk launched ballistic missiles from the Barents and Okhotsk Seas, an official spokesman for the Russian Defense Ministry said. "according to telemetry and observation posts, the warheads of the missiles arrived at the appointed time at the Chizh training grounds in northern Russia and the Kura in north-eastern Russia."
In addition, the strategic missile carrier Tu-95MS produced a revolving launch of six cruise missiles that hit ground targets in the territory of the Western Military District air test site, which imitated key objects of the enemy's military infrastructure.
"Military Industrial Courier"
notes that the combat crews of the Strategic Missile Forces launched the RS-12M Topol intercontinental ballistic missile from the territory of the Plesetsk cosmodrome, which hit a conventional target at the Kura test site. As reported by the Ministry of Defense of the Russian Federation, the prelaunch operations, launch and flight of the rocket were strictly within the framework of the planned program.
As the
ITAR-TASS
, calculations of missile forces and artillery formations of the Central Military District under the leadership of Colonel-General Nikolai Bogdanovsky fired Grad and Uragan rocket launchers, hitting convoys, positions and command posts of the conditional enemy on the territory of the Chebarkul test site. It is noted that the defeat of the targets was monitored by domestic drones, which transmitted the video signal to the National Defense Control Center of the Russian Federation in real time.
It is also noted that the grouping of air defense and aviation of the Southern Military District under the leadership of Colonel-General Alexander Galkin reflected the massive training missile and air strike of a conditional enemy using C-300, BUK-M1 and Pantsir-S complexes, destroying all the target missiles who imitated goals.
In addition, the missile divisions of the Southern Military District on the territory of the Kapustin Yar test site successfully used the Iskander-M operational-tactical missile systems and the Smerch multiple rocket launchers.
The Dagestan rocket ship of the Caspian Flotilla successfully hit the coastal command post of a conditional enemy with a cruise missile.