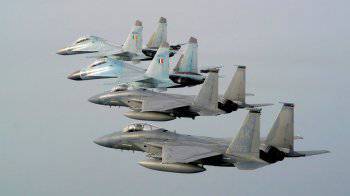 As the
gearmix.ru
, with a link to
theaviationist.com
, 2004 data on demonstration battles were recently declassified, in which the pilots of the Indian Air Force on MiG-21-93 "Bizon" and Su-30 MKI "Irkut" fighters inflicted a crushing defeat on the American pilots on the F-15C and F-16C fighters / D USAF with 9: 1 score. It is also noted that the Russian aircraft have become worthy opponents for the newest French Mirage-2000C, Mirage-2000-5 and Mirage-2000N.
It is worth noting that these types of aircraft are close in technical characteristics, but the Russian Irkuts and Bisons showed the best results when piloting in close combat. According to British pilots who tested Russian fighters, these are "machines of an incredible class."
As gearmix.ru notes, the Americans explained their defeat by the fact that on their part the pilots of the private wing of the Air Force participated in the training battles, while the Indian team had a lot of aces trained by Russian instructors.
"We came to America to face off with the best pilots of the world, including from the Netherlands and Germany, and the statement by the Americans about the weak composition of their team is no more than an excuse," French pilots said in turn.