Bloggers report on murders of pravoseks in Odessa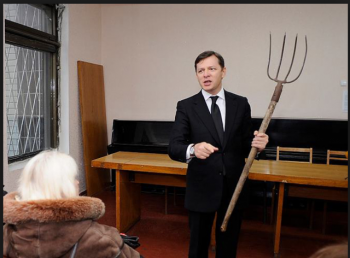 In one of the blogs
LiveJournal
It was reported that three corpses of Right Sector activists were found not far from the Odessa catacombs. They were directly involved in the arson.
Trade Union Houses
. It is noted that one of them was cut, presumably with a demining shovel, and the other two were slaughtered with pitchforks. Shortly before that, all three were wanted. Representatives of the city police department and the branch of the "Right Sector" in Odessa did not comment on this information.
"Moreover, now, after receiving clarifications from Odessa and taking the reference to the forks as a basis, I would even venture to take the liberty to point out to law enforcement authorities, leading the investigation, to potential customers and perpetrators of the provocation, which, in my opinion, was not done by any" brigades 2 May ", in the existence of which I, of course, do not believe, but by the militants themselves. Of course, commissioned by the perpetrators of the tragedy, trying to divert suspicion from themselves, and certainly aimed at compromising the Odessa Resistance, "- said the user under the name putnik1 (Lev Vershinin).
http://putnik1.livejournal.com/