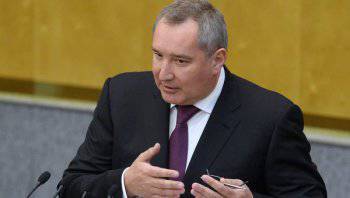 According to RIA
"News"
, the Kommersant newspaper published an interview with the Deputy Prime Minister of the Russian Federation, Dmitry Rogozin, who reported on a possible revision of economic relations with Moldova in the event of signing an association with the European Union. "I will insist on revising economic relations with Moldova, if she joins the association," he said.
"I am convinced that association with the EU is a change in the neutral status of Moldova. There is a certain rule, all NATO members know him: in order to join the EU, it is necessary to join NATO. This rule under the Moldovans will not change. All countries have been through this. Therefore, association with the EU is the moment when Moldova takes up the door handle called NATO. Tomorrow this door will open, "added the Deputy Prime Minister.
According to Rogozin, Chisinau will take the first steps in any case, and Moscow will react after the fact. He also noted that Russia would be glad of the decision of Chisinau to join the Customs Union.
"All the necessary proposals were made, and guarantees were given. But ignored. We will be happy if Moldova decides to join the CU, and will do everything to support it. And we will do it more disinterestedly than the EU, "he said.
In addition, according to the vice-premier, the Moldovan authorities should take into account the opinion of residents of Transnistria when deciding on an association with the European Union.
"If Moldovan politicians were patriots, they would first have to hold elections, which would become a kind of referendum, because some parties in Moldova are in favor of association with the EU, while others are categorically opposed. And on the basis of the will of the people, decisions need to be made, but again, with an eye on Transnistria, "he said.
Dmitry Rogozin also stressed that the main challenge for the Russian Federation is to ensure the civil, economic and political rights of compatriots and citizens of the Russian Federation in Transnistria.
RIA "
News
»Notes that May 9 Dmitry Rogozin visited Transnistria as part of the Russian delegation. In the evening, he said that the Moldovan authorities refused to meet with him.