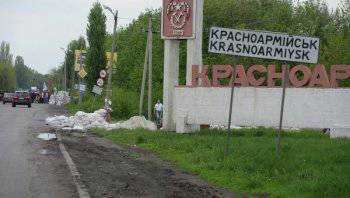 As the
"RT in Russian"
, in the city of Krasnoarmeysk, soldiers of the National Guard shot dead two unarmed men near the building of the local city executive committee. Another was wounded in the leg. At the moment he is in Dimitrovsky hospital.
According to one of the witnesses, armed men in uniform seized the building, driving the assembled people to the street. "The punitive battalion" Dnepr "was sent to the city to disrupt the referendum. Armed people seized the city executive committee, all were expelled into the street. Sent to people
weapon
. They did not allow people into the building of the city executive committee, "he said.
The head of the Central Election Commission of the Donetsk People's Republic, Roman Lyagin, noted that by the time the Ukrainian troops had failed to vote, 47 had voted for thousands of 21 voters — turnout was 77.8%. Recall residents proposed the question of support for the act of state independence of the Donetsk and Lugansk people's republics.
According to Lyagin, the National Guard under the soldiers arrived in the city at about three o'clock local time. The coordinator of the Central Election Commission, Boris Litvinov, said that five armored personnel carriers and combat vehicles with submachine gunners entered Krasnoarmeysk. However, supporters of federalization managed to hide the ballots, so the results of the vote in any case will be announced.
The city site of Krasnoarmeysk reported that the military occupied the city council and the city police department.
As noted by RIA
"News"
, The Ministry of Internal Affairs of Ukraine refuted data on the presence of the Dnipro battalion in Krasnoarmeysk. It is also reported about the start of the investigation of the events in Krasnoarmeysk under the article "premeditated murder".