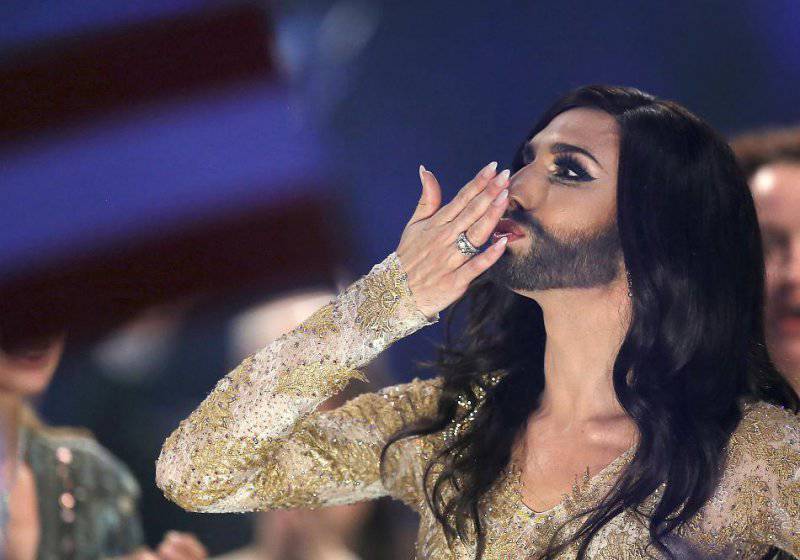 Poor Europeans. I really sympathize with them. From all his Russian soul.
I feel sorry for them all, wholesale and retail. They see and believe what they are fed. What the hell is democracy? What is free speech? And this place proudly calls itself the cradle of culture. Nonsense.
Yes, sometime, several thousand years ago, perhaps. Antiquity, Renaissance. It was so. There were Leonardo, Raphael, Lissippat, Praxitel, Shakespeare, Goethe. WERE. And they remained forever symbols of culture. Needed, however, only the eastern barbarians. Type of Russian.
Vertex. Epitaph. Epicrisis. In their Eurovision wins IT. IT is not a bearded image ... well, I have no words, forgive me. IT is the image of what owns the brains of Europe, where we have the concept of culture. His name is tolerance.
Euroaltar is dedicated to this tolerance. Blow-up dust particles from LGBT, must be black in every film. I'm not racist, I just do not like blacks. In large quantities. Especially when they are pushed into films in a crowd. Will Smith is quite enough.
"You are not tolerant" - it sounds more like a sentence than an insult. Is it possible to insult me, if indeed I am being bruised by the look of a bearded homosexual in a woman's dress, filled with a nightingale, that he will rise up right now and Phoenix? Call in with concerts in Voronezh, would check how you will rise ...
By the way, having rummaged, I found a funny aspect in the interpretation.
Tolerance (from the Latin. Tolerantia - patience, patience, voluntary suffering) - a sociological term for tolerance of a different worldview, lifestyle, behavior and customs. Tolerance is not tantamount to indifference. It also does not mean adopting a different worldview or lifestyle, it is about presenting to others the right to live in accordance with their own worldview.
Voluntary suffering endurance. Am I mistaken, or is it already from the opera about sadomasochism? Alas, not mistaken.
Poor Europeans. Verily it is said in Scripture, "blessed are the poor in spirit, for theirs is the kingdom of heaven."
Poor spirit (humble) - these are people who feel and are conscious of their sins and spiritual weaknesses. They remember that they cannot do anything good without the help of God, and therefore they do not boast and are not proud of anything, neither before God nor before people. These are humble people.
Spiritual misery is called humility
The spirit-bearer of the Lord promises a great reward - the kingdom of heaven.
This is in brief. Humbling Europe votes to win IT. And IT has become a symbol of the culture of this Europe for the whole year. The winner of souls and hearts. Yes, it is worth the kingdom of heaven, indeed.
I prefer to burn in hell. There really kompashka more interesting will be.
I am happy for Europeans in one thing: they are not given to see what we have seen. Burnt and killed residents of Odessa. Fallen in Kramatorsk, Slavyansk, Mariupol. I am genuinely happy for them.
For, again, I turn to antiquity, to each his own, to each according to his merits. Suum cuique, as the Romans used to say. And they knew a lot about terms.
Culture is culture. This is enlightenment, this is a way of thinking and understanding. This is for us. The howling bearded fag in the female form is them.
If we are talking about who is the bearer of culture in Europe - look at the two beauties, who took only seventh place. The only country that can qualify for this position is Russia. Yes, and Belarus, too, although I personally do not particularly share them.
Poor Europeans. Really, sirye and miserable. Tolerant at all. God be with you, live as you wish and as you can. But God forbid you, in any way, through what (or someone like Makarevich bought) to impose your "cultural values" on us. It's not gonna go. No way. And do not even try.
We have already admonished you. Moreover, repeatedly. Reasonable yet. It would not be desirable for this large, peaceful and kind people. Let's take the levers again
tanks
and let's go to drive into your tolerated heads the truths about culture, eternal values ​​and truths.
After all, let's go wait.