Danish mercenary killed on the Maidan
The crisis in Ukraine showed us what the media conflict looks like today: the "stylishness" of information, disinformation marketing and dissemination
News
the choice of the creators of the conflict.
However, despite so much control from the major media, there is a "leak" when you least expect it.
For example, let's take the fact of execution on the Maidan in Kiev. This case shows that snipers shot people on the Maidan is not accidental. That it was planned in advance, and one of the snipers - a NATO soldier (according to some, he is a citizen of Denmark).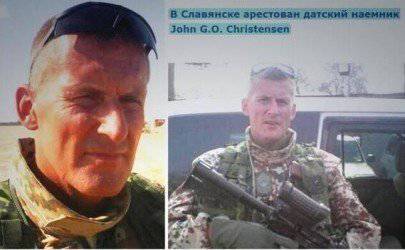 So, this photo on the left shows a NATO sniper in Afghanistan.

Left documents this sniper, when he was arrested during the fighting as a mercenary, near Slavyansk. The image on the right: a NATO fighter in Baghdad.

In this image, a mercenary in Kiev from 18 to 21 in February in 2014, the position of snipers in the building (most likely, the hotel "Ukraine"), whose windows look directly at the masses of people on the Maidan. According to available information, this mercenary arrived in Ukraine in November 2013.
The Serbian Magatsin had previously written about the traces of mercenaries in Ukraine, especially Blackwater, which, according to the publication, is America's largest military mercenary corporation.
Also note that information about mercenaries in Ukraine is confirmed by the Serbian Facts portal, which writes that Western media quoted the Russian Defense Ministry report that the United States refused to take the bodies of 13 military CIA agents killed when defenders in Slavyansk shot down a flying helicopter.
This, according to information from the same report, occurred on May 2, when the 25-th Airborne Division of the Dnepropetrovsk anti-aircraft artillery division, which had previously moved to the Donetsk People's Republic, shot down two Mi-17 transport helicopters.
This, according to the publication, occurred at those moments when the crews of two helicopters tried to land vehicles on the temporary control and monitoring base of the CIA in the combat zone under Slavyansk. Apparently, in two Mi-17 there were a total of 14 CIA agents, but only one of them survived. Initially, Kiev claimed that it was the Ukrainian captain Saviylov, but later it turned out that it was an employee of a private military company from the USA Greystone Ltd. Note: Greystone Ltd is the new name for Blackwater.