Ukrainian presidential candidate Oleg Lyashko was detained in Mariupol by the militia of the Donetsk republics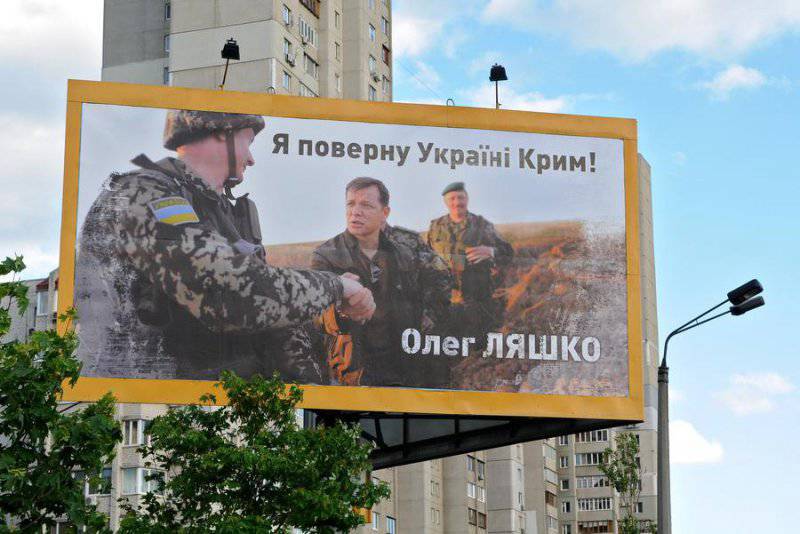 A presidential candidate of Ukraine, MP Oleg Lyashko was detained in Mariupol by the militia of the proclaimed Donetsk People's Republic. This was confirmed by the RT people's mayor of Slavyansk Vyacheslav Ponomarev.
In a telephone conversation with RT, Ponomarev also said that he still does not know where exactly the presidential candidate is located. Previously, information about the detention of Oleg Lyashko published a number of media.
"It is true that Lyashko was caught, we will soon catch and (Dmitry) Yarosh", - told RIA
News
representative of the militia, noting that the deputy is transported from Mariupol to another location, but without specifying where.
Militias reported that in Mariupol Lyashko tried to oppose the holding of a referendum on the status of the Donetsk region.
At the same time, a message appeared on Facebook's Lyashko page: "The terrorists said they captured me. Hole them from a donut, not Lyashko. I live, I continue to fight in the East. " However, no photo or video confirmation of these words was presented.
The Internet has repeatedly published videos on which the presidential candidate mocked people who oppose "euromaidan". The last of these was the Minister of Defense of the self-proclaimed Donetsk People's Republic: for an unknown reason, Lyashko was allowed by the Ukrainian special services to interrogate him.
The politician is also famous for his harsh statements against the Russians and opponents of the Kiev authorities. In March, he introduced a bill in which he proposed to consider the participants of "separatist rallies for joining Russia", as well as those who hinder the movement of military and military equipment, as traitors and supporters of the occupiers. Moreover, at the time of "military aggression" to them, as well as to saboteurs, murderers, marauders, deserters and spies, Lyashko proposed to apply the death penalty.
On Sunday, a referendum on the status of regions is held in the Donetsk and Luhansk regions. In 8: 00 (9: 00 MSK) polling stations opened. Preliminary voting results in the Donetsk region will be announced as information becomes available, and the results of the referendum will appear within three days. The first voting results in Lugansk will announce 12 May.