War Arguments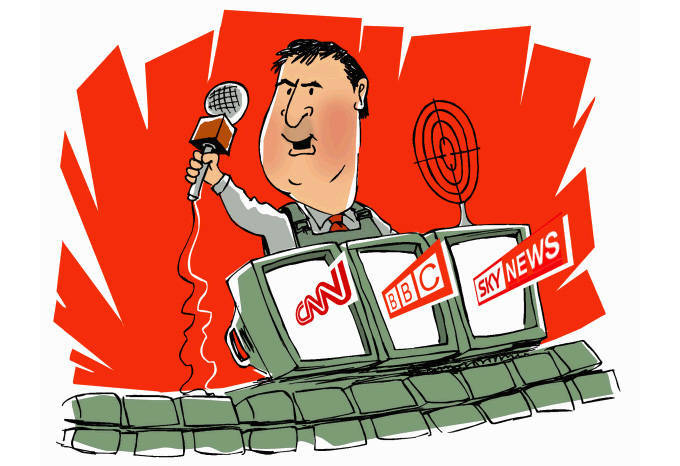 Good afternoon dear friends. This is my first attempt at writing on this site, although I have been sitting on it for quite some time. Boiling hot.
Recently, a lot of articles about Ukraine. And everything is told about the war, what is happening, people are happy if "ours" win, scold the "junta", sympathize. About Syria - one article per week. But there is also a war, the same interests of the stars and stripes, constant victims. I do not argue - Assad done, expels the opposition from the territory of the country, fighting with it. Chops off the head. And from them grow new.
What is the beginning, you ask. I will answer easily and simply - paying attention to one thing, we will definitely lose sight of the other. What is information war in general? An ordinary war is a conflict of interest, when two forces collide, one of which must be morally and physically victorious. The more power, the more other countries may become interested in the conflict and add their contribution to this conflict. In ordinary war, we notice
weapon
, we notice the soldiers, people fight for their point of view, shed blood.
The 21 information war of the century is a war of politics, journalism and capital. Who has more green pieces of paper, he won. Who brings the "truth" to the masses, he won. Who has a great influence, he won.
And, sadly, noting this, we have to say that we are losing this war.
Yes, Putin in 2013 year well done. And the same conflict over Snowden, and the same Syrian conflict ... But everything is not that.
Snowden was a bait that we essentially pecked at. We were led into a war in which we are far from the first place. No one had any questions about the fact that the Americans no longer even hide their long paws, which stretched to Ukraine? Everyone knows the truth, and everyone is still silent. Masks have already been removed, and conflicts are coming. All each other cover so that the end and the edges of this familiarity is not visible. All are silent, all suffer. I mean, of course, Europe. It is disadvantageous for her conflict with Russia, she has a whole market tied to it. But the Americans are good, they have a whole mainland separate. And they are all as individual and individual as the owners of iPhones.
I will return to the topic of conversation. Why does Russia lose every step? The first thing that catches your eye is our opponent (I think no one doubts who it is and why). Everything is too easy, everything is too mock, everything is too ... simple. When you sit at the chessboard with a monkey that just sits and grimaces, you will smile and assume that you will win. But if a monkey suddenly changes its face to the harsh and collected, and it makes you do it in three turns, since you have greatly relaxed - this is already fail, as expressed in America.
What essentially happened?
First:
Hello, Snowden, we will protect you from evil and terrible brethren. The world is in shock, Russia turned out to be humane and kind, the Americans - Evil.
The second:
Hello, Syria, we will protect you from the evil and terrible Americans. The world rejoices, Russia is once again a peacemaker, the States are shabby creatures.
Third:
Hello, Ukraine, we ... We will protect you from ourselves. The world is indignant, Russia has chopped off half the country, America has nothing to do with it.
What a twist! And after all, our national victories in the international arena are nothing more than puff. Well, Sochi-2014 was great, I myself was a volunteer at the organization of the Olympic flame, for me it was a pride that our country would hold such an event, though with great skepticism, it was at the beginning. Aha, great, everything is over, everything is forgotten already - let's welcome Eurovision. And who is winning there? A woman with a beard (or a man with a breast, I never figured it out) Conchita Würst. Liberal Europe rejoices, everyone else is shocked. The bearded Conchita Sausage ("Wurst" translates this way) easily bypassed everyone, even the democratized Ukraine, which was in the 6 place. There is success and glory, and what lies under the crust? "We gave you the opportunity to hold the Olympiad according to your rules, but otherwise you still cannot beat us in the information war. You cannot show the triumph of your ideas on the screen to many people to accept them. You still lag behind us ".
I remember very well how everyone at "VO" rejoiced in victory in Sochi. And why no one comments on the performance of our girls? The Tolmachevs performed very well :) Of course, everything is in the same style as various singers usually perform, but the girls at least tried. But many do not even call them by name - everyone looks at Ukraine. Once. Why not
News
about Syria, because the war is not over there yet? Once, we look at Ukraine. In the United States, a tornado passed, which claimed many lives - so what, it's the enemy, it must be destroyed.
Correctly they say - won the battle, but did not win the war. We need to think now - are we playing according to the rules? Maybe we are told that we play chess, although in reality these are cards? To win the information war, we must destroy the source of other people's information, and not try to crush their own. Otherwise, it translates into "You are a fool - no, you are a fool" at the global level. Agree, not a very funny trend.
P. S. I'm only 20 years old, I am, in the opinion of many, a teenager. But it so happened that I had already served and was learning ... I don't know, maybe my opinion is wrong, but it seems to me that we are missing something very much. We are distracted by one from the other. It is wrong. I am pleased to read your comments on this topic. I can be wrong, like all people. And yes, Roman Nosikov, I really liked reading your article, even though she had no particular idea. But in some ways you pushed me to write my own article.